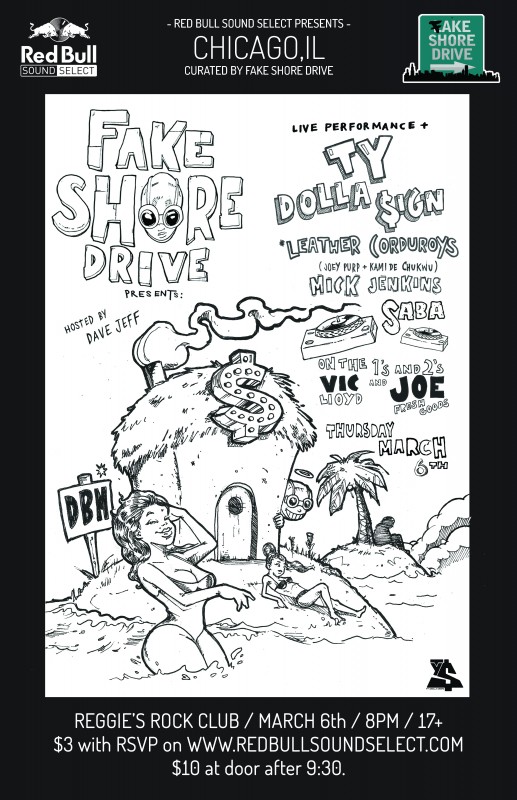 Artwork by Hebru Brantley
The last time you saw us was all of the way back in September 2013, and a full six months later we can finally say: "Hi haters, we're back off hiatus." Red Bull Sound Select and Fake Shore Drive return for the 2014. New year, new artists, new headliners. I don't need to spend too much time going through the FSD & RBSS resume, so let's keep it simple by running down a few of the acts we brought you last year: Master P, Gunplay, Mannie Fresh, Freddie Gibbs, Chance The Rapper, Lucki Eck$, The SaveMoney Army, Lil Herb & Lil Bibby, Spenzo, Tree, Tink, Sasha Go Hard, ZMoney, ShowYouSuck, The Cool Kids, Giftz and L.E.P Bogus Boys.
We're kicking off 2014 with some fresh faces who happen to be a few of the hottest new acts in the city. The duo of Leather Corduroys consists of Joey Purp and Kami De Chukwu, who are poised to have a massive 2014 with their highly-anticipated collaborative debut. This will be their first ever full set as a duo.
Mick Jenkins is rapidly rising as one of Chicago's most buzzed about artists, with his thought-provoking and sometimes revolutionary message, Mick's Sound Select debut is sure to be an exciting one. His imagery is vivid, so be prepared to watch him bring it to life on 3/6.
Rounding out the lineup is Saba, who broke through in 2013 as a solo artist and as a member of the Pivot Gang collective. His status is quickly rising as not only an emcee, but also as a sought after producer, and he's already making a name for himself thanks to his energetic live sets.
For the headlining spot, we've secured red hot Californian, Ty Dolla $ign, for his first-ever solo set in the City of Wind. Fresh off the release of his Atlantic Records-backed, Beach House EP (which features Twista, Fredo Santana and Young Chop), Ty will bring his unique brand of West Coast soul to Reggie's. His current smash, "Paranoid," is burning down the charts and the clubs, so expect him to do the same on March 6th in front of a live audience.
As always, Dave Jeff will be handling hosting duties, while DBM brothers, Vic Lloyd and Joe Freshgoods handle the turntables And like we always do about this time, the first 100 people through the door will receive a poster-size print of the Hebru Brantley artwork you see above.
Date: Thursday, March 6, 2014

Location: Reggie's Rock Club
2105 South State Street, Chicago, IL 60616

Doors: 8pm

Age: 17+

Headliner: Ty Dolla $ign

Sound Select Roster:
Leather Corduroys [Joey Purp + Kami De Chukwu]
Mick Jenkins
Saba

Host: Dave Jeff
DJ: Vic Lloyd & Joe Freshgoods
Tickets are only $3 right now if you RSVP at the Red Bull Sound Select site. Tickets will be $3 at the door the night of the show until 9:30pm. After 9:30p the ticket prices will jump to $10, so be sure to get there early. We highly suggest you grab your tickets now because our last show sold out by 10pm, and trust this is one you won't want to miss. Don't procrastinate, just RSVP and make that purchase.