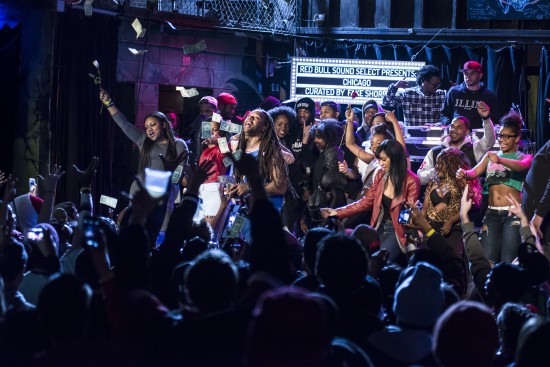 Photos courtesy of Hank Pearl of Black Pearl Photo
First off, a major thank you to all of the fans, friends, readers and supporters who came out to the show last Thursday night at Reggie's. On behalf of FSD and the good folks at Red Bull Sound Select, we truly appreciate your support. We strive to bring you the freshest and most innovative events, and to give you an experience that's more than just a "concert." We support local talent, and this event absolutely proved that.
We apologize to the 100 or so people who couldn't get in, and to anyone who had to spend a lot of time waiting in line in the cold. Be sure to get there early next go round.
The show was a huge success, as Sound Select artists Mick Jenkins, Saba and Leather Corduroys (Joey Purp & Kami De Chukwu) all brought their A-game and definitely caught some new ears if concertgoers weren't already aware. The energy was on 10 throughout the evening and each set, so by the time Ty took the stage the place was about to erupt. Ty came through and brought out some big guns including Lupe Fiasco, Spenzo and Fredo Santana. Ty invited more than a few ladies to the stage, dousing them in rose pedals, and even tossing some big bills in the audience. It truly was a sight to see.
If you happened to miss the show, or just want a refresher course, you can hit the jump to check out the flicks. Thanks again everyone.