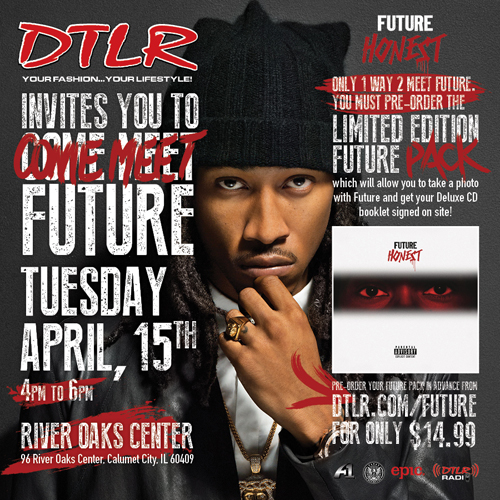 TONIGHT (Tuesday, April 15th), Chicagoans will have a chance to meet acclaimed star, Future, up close and personal at DTLR at the River Oaks Center from 4-6p. Future will be in Chi City promoting his new album, Honest, which drops April 22nd, and is making a stop at DTLR to chop it up with his biggest fans.
With your preorder of Honest (preorder here) for $14.99, you'll gain access to the DTLR location at River Oaks where you'll get to meet and greet with Future, get a picture taken with him, and get your deluxe CD booklet signed on site. A great deal for any Future fan.
However, you must preorder the album digitally at this exact link to gain entry. Do so and we'll see you at the River Oaks Center TONIGHT (Tuesday, April 15th) from 4-6p. Don't be late, and don't miss out on this one-of-a-kind fan opportunity.
96 River Oaks Center
Calumet City, IL 60409
4-6pm