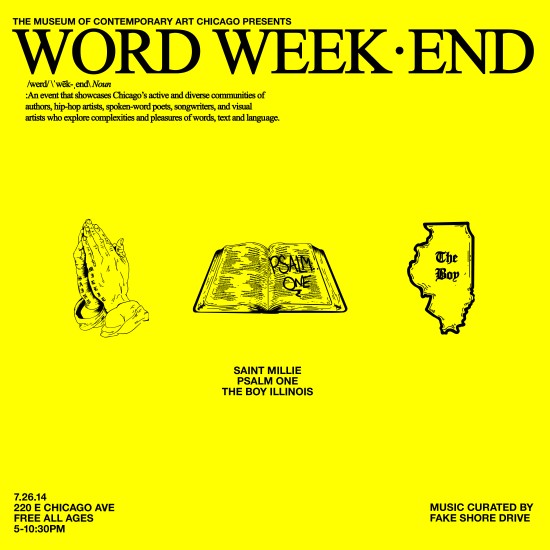 It's that time again. It's a busy summer for FSD, and tonight we're bringing you yet another special event. This time around, we've partnered with the Museum of Contemporary Art to bring you The Language of Hip Hop, featuring The Boy Illinois, Psalm One and Saint Millie, during the museum's Word Weekend festivities tonight.
MCA Chicago presents Word Weekend, an event that showcases Chicago's active and diverse communities of authors, hip-hop artists, spoken-word poets, songwriters, and visual artists who explore the complexities and pleasures of words, text, and language. The weekend includes activities for every age, whether you're 9 or 90.
The Language Of Hip Hop, co-curated by FSD, will feature live performances from Psalm One, The Boy Illinois and Saint Millie. The event is free to all ages and kicks off at 7:15pm sharp tonight, so come out and enjoy some music from a few of the city's best and brightest artists.
The Language Of Hip Hop featuring The Boy Illinois, Saint Millie & Psalm One

TONIGHT, July 26th

Museum Of Contemporary Art Chicago, 220 E. Chicago Ave

7:15pm, all ages
When's the last time you went to a free hip hop concert in a museum? We'll wait. Trust us, it's not an event you want to miss. More details on Word Weekend can be found here. See you tonight!