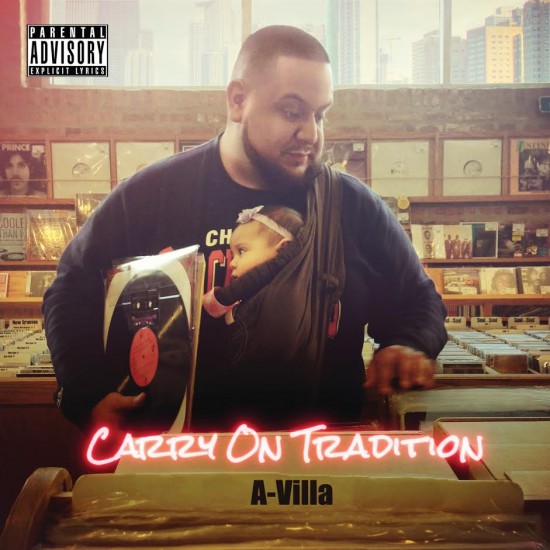 A-Villa has been hard at work over the past couple of years, carefully crafting what will be his official debut album, Carry On Tradition. And in just a few short weeks, the album will be a reality. Years of hard work out in the open for the whole world to see (and hear.) So how did Villa get to this point? What inspired him to push his corporate job to the side to enter the shaky waters of the music business? We caught up with Villa to hear about all of that and more in a brand new interview which you can now find below.
On top of that, Villa blessed us with the official track list and cover art for the album, which is now completed and ready for release. It's a very exciting time for Villa, so find out how everything came together below. Also, as an added bonus you can watch an album dedication from Villa below as well. Keep the tradition alive.
Carry On Tradition drops November 4th via Closed Sessions Records. Pre-order the album here.
1. Pay Homage (Intro)
2. Carry On Tradition f/Rapper Big Pooh & Mikkey Halsted
3. The Warrior, The Philosopher, The Rebel f/Lil' Fame of M.O.P., Cormega, Killer Mike
4. Live From The Villa f/Action Bronson, Roc Marciano, Willie The Kid
5. Dynamite S.O.U.L. F/Guilty Simpson, Ras Kass, Fashawn, Skyzoo
6. Gunnin' For The Throne f/Elzhi, Naledge, Freddie Gibbs, Mikkey Halsted, Vic Spencer)
7. Tear It Down f/Blu / A.M.S.M. f/Chaundon & Reks
8. A Hustler's Soliloquy f/Roc Marciano
9. Pass The Wire f/Noreaga, Kool G Rap, Twone Gabz
10. Mega Trifle f/Joell Ortiz & Scheme
11. The Colosseum f/Big K.R.I.T., Termanology, & Inspectah Deck
12. The Wild Bunch f/Oh No, Roc Marciano, & Sean Price
13. Sucker Free f/Saigon, Jon Connor, Joe Budden, & BJ The Chicago Kid
14. A Day In The Life f/AZ, Havoc, Freeway, Macie Stewart
15. Never Give You Up (One For Ana) f/Rapsody, Guilty Simpson, Villa, & Avalyn Villagomez
How do people at your corporate job treat you now, now that you're releasing some high profile music?
I never really went out of my way to tell anyone at my job about it. I initially kept my finance career and what I do in music separate, because they're two completely different worlds. However, co-workers found out thru social media & such and it sort of spread that I was a rapper, a DJ, or something like that.
So I had to explain to them exactly what it is I do and they've been nothing but supportive. I think it's intriguing to a lot of people that I'm a bank Vice President who makes Hip Hop music. You just don't commonly hear that story in the music industry or vice versa, in the corporate world. I'm not knocking a young artist for pursing their dreams before they graduate school, but there's nothing wrong with doing it the way I did either. I always tell young artists to always have a plan A, B, & C…because there's no guarantees, especially in music.
Why this album? And why now?
I started out like most beatmakers…emailing & chasing artists, managers, and A&Rs for beat placements on their projects to no avail. That's very difficult when you're relatively unknown, you have no connections, and you're just one of thousands of beatmakers trying to contact the same artists. I was in a suit & tie working in the bank during the day and pursuing my rap music dreams at night. And it wasn't until after I won my first beat competition, where I met Chicago artist Mikkey Halsted. My first real studio session was with him and around that same time, I finally got a response thru email. Rapper Big Pooh, formerly of Little Brother…reached out, told me he liked my beats, and sent me a track with two verses he recorded on one of those beats.
Being a big Little Brother fan back when I was going to school and now having a beat with Rapper Big Pooh on it was a big deal to me. It wasn't even a finished song.  But then I brought it to Mikkey and it became the first song we recorded for my album. Seeing how that song came about…I took that same approach, combined it with what I learned networking in the business world, and applied it to the music industry. The plan was to reach out to every artist I was a fan of, tell them my story, and let the music speak for itself.
At the same time, I got better as a producer and was learning how to make actual songs and not just beats. Then one song with 2 artists, turned into 3 songs with 8 artists, and then into a full length album with over 40 artists on it. At the same time, I'm was still working full-time at my career in banking and raising my new born daughter. So overall, I worked off and on the album for about 3 years.
[Click Below For Next Page]