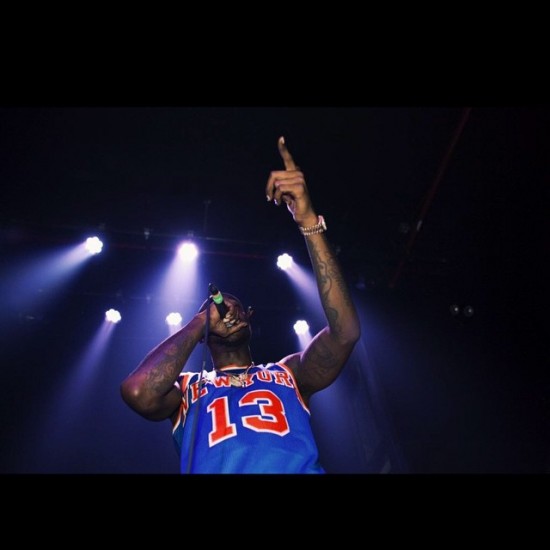 Still livin'.
Terrible news coming out of NYC this morning, as the NY Post is reporting that there was an attempt on Freddie Gibbs' life last night after a concert in Brooklyn. Allegedly after Gibbs show at Williamsburg's Rough Trade, a gunman approached his black GMC Denali and fired shots into the truck. Thankfully, Gibbs was not injured, but two others, including his DJ were:
Two people were shot in a trendy section of Williamsburg, Brooklyn, early Tuesday, in what was purportedly a rap beef.
Hip Hop musician Freddie Gibbs, who just performed at a record store called Rough Trade, claimed he was the intended target when shots were fired at 1:13 a.m. while he was sitting in a black GMC Denali at North 9th Street near Wythe Avenue.

Gibbs' crew had barely rolled one block away when the gunman – dressed in a dark hoodie – ran up to their ride and fired several shots inside, the rapper said.

"They tried to kill Tupac. They tried to kill me," Gibbs told The Post outside the club. "I'm still alive."
Asked why he would be targeted, Gibbs said: "I'm Freddie Gibbs. They tried to kill me, but I'm still alive."
…"He [the shooter] was standing around you guys all night," an investigator told Gibbs. "He was stalking you guys. We can tell on camera, he wanted it to look like he knew you, but it's clear he didn't. When you guys left, he was waiting for you outside."

Cops showed Gibbs pictures of the gunman, and another man seen inside the club with him, but the rapper didn't recognize either man.
Read the rest of the article here.