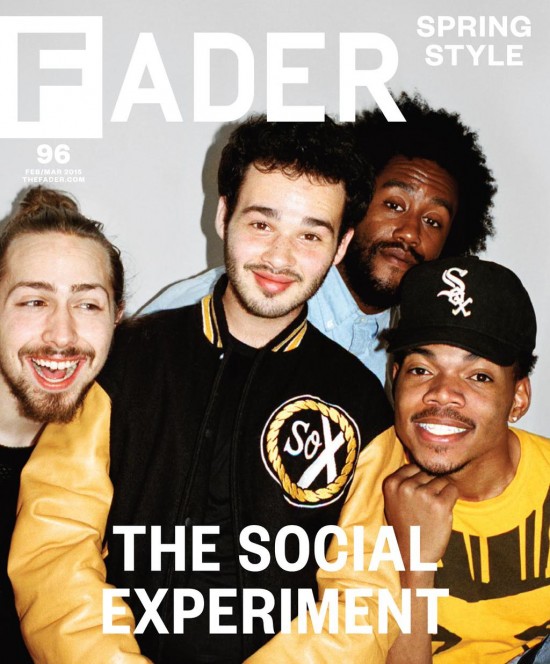 First the GQ spread drops, now Chance and the Social Experiment grace the cover of The Fader's February/March issue. I gotta say, today was a good day. Bravo, fellas. Bravo.
Words by Noz:
It's an old story by now. Rapper makes raps, raps blow up, fame follows, famous followers follow that fame, followers follow those famous followers and more of the fame follows, etc. What makes Chance interesting—or at least what makes him especially interesting—are the moves he has chosen to make in the months since those dominos began to fall, and the moves he has chosen not to make. He's remained oddly noncommittal about his future after Acid Rap. No announcing a million-dollar, major-label deal. No self-righteous, keep-it-indie counter-announcement about rejecting those deals either. And, much to the devastation of his still-budding fan base, not even the slightest hint of a new solo full-length.

When Billboard ran an article with the headline "Exclusive: Chance The Rapper Reveals New Album, Surf" in October 2014, it seemed like his fans' thirst was soon to be quenched. And it will be. Except Surf is not a Chance The Rapper album. It's not even a rap album, really. It's the sprawling debut by Donnie Trumpet & The Social Experiment—The Social Experiment being the four-member songwriting and production unit that began as Chance's backup band on his 2013 tour of the same name. Donnie Trumpet, a 21-year-old born Nico Segal, is the member of this collective who—you guessed it—plays the trumpet. Chance is another member, but, notably, he's just another member. He's buried himself in a group setting, deferring a shot at becoming a more-than-reasonably-famous rapper in favor of an uncentered, cross-genre collaboration with his friends.
Update: Check out an inside look at the cover shoot below, via Fader.