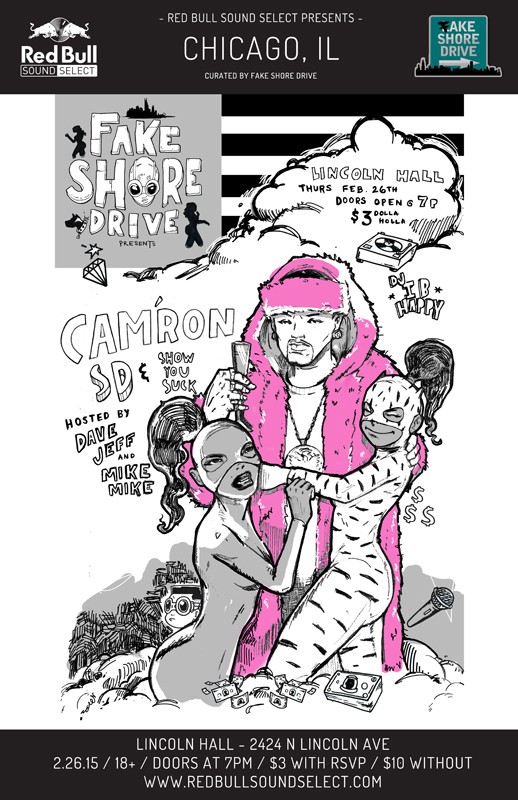 Killa!
We're bringing our 2015 return show to Lincoln Hall next week (Thursday, February 26th) for another 18+, $3 affair. The headliner: Killa Cam. And alongside Cam, we're introducing SD into the Red Bull Sound Select system. And one of our favorite FSD x RBSS vets, ShowYouSuck, will also be on the bill.
Dave Jeff will be handling hosting duties per usual, while Dipset family member Mike Mike will make an appearance. IB Happy will be handling DJ duties for the duration of the evening, so you'll want to jump on this RSVP early.
As always, you can attend this show for the low price of $3 WITH an RSVP. The show is $10 for those who do not RSVP, so be sure to save some bread and RSVP now. This show will be a FIRST COME FIRST SERVE event, so reserve your spot now. Don't wait until the last minute. We've told you this before. THIS SHOW WILL SELL OUT SO RSVP AND ARRIVE EARLY.
Location: Lincoln Hall
2424 North Lincoln Avenue, Chicago, IL 60614

Doors: 7pm

Age: 18+

Date: Thursday, February 2015

Headliner: Cam'ron

Sound Select Roster:
SD
ShowYouSuck

Host: Dave Jeff w/ Mike Mike
DJ: IB Happy
Today, we do have one pair of tickets to giveaway to a lucky FSD reader. So hit the jump to find out how they can be yours.
To win, you must have the best answer to the trivia question below, and Tweet me (you must follow me so I can DM the winner) with the hashtag #FSDGiveaway  @fakeshoredrive must be included in your tweet to win.
Why do you deserve to get FREE tickets to the KILLA CAM show?