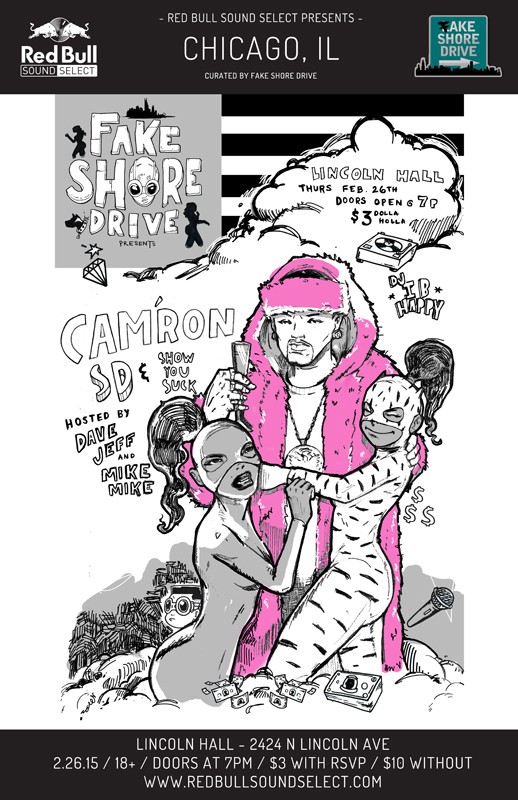 Artwork by Hebru Brantley
Killa!
You know we had to come back in a major way, right? Well, it doesn't much bigger than King Jaffe Joffer a.k.a. Killa Cam a.k.a. Spacely Sprockets. That's right, Dipset will be in the building TONIGHT at Lincoln Hall, as we return with our first Red Bull Sound Select & FSD Presents show of the year. Quite the way to kickoff 2015, no? So get your pink, minks and best Diplomat gear ready — this is sure to be a wild night.
We're bringing our 2015 return show to Lincoln Hall tonight for another 18+, $3 affair. And alongside Cam, we're introducing SD into the Red Bull Sound Select system. As you know, his album Truly Blessed, was one of the best and most slept-on projects of 2015, so we're happy to welcome him to the main stage.
This year we'll be slotting our shows a little different, and instead of bringing in three new acts every show, there will just be one, and then one from our already burgeoning RBSS roster. So we felt it was only right to bring back one of our favorite acts, who just so happens to be one of the best live performers in the city: ShowYouSuck. Yes, Show is back. He performed at the first-ever RBSS show (our first with RBSS as well) back in February of 2013, so he was an obvious choice to set off 2015.
Dave Jeff will be handling hosting duties per usual, while Dipset family member Mike Mike will make an appearance. IB Happy will be handling DJ duties for the duration of the evening, so you'll want to jump on this RSVP early.
Also, there will be free pizza (yes, you read that correctly — free pizza) for everyone in line courtesy of Pie-Eyed Pizzeria, poster-sized prints of the awesome Hebru Brantley artwork you see above for the first 100 people in and limited edition FSDIPSET bandanas for the first 150 people in tonight. How you love that?
As always, you can attend this show for the low price of $3 WITH an RSVP. The show is $10 for those who do not RSVP, so be sure to save some bread and RSVP now. This show will be a FIRST COME FIRST SERVE event, so reserve your spot now. Don't wait until the last minute. We've told you this before.
Location: Lincoln Hall
2424 North Lincoln Avenue, Chicago, IL 60614

Doors: 7pm

Age: 18+

Date: TONIGHT

Headliner: Cam'Ron

Sound Select Roster:
SD
ShowYouSuck

Host: Dave Jeff w/ Mike Mike
DJ: IB Happy
In the past we've done shows with Master P, Chance The Rapper, Ty Dolla $ign, Freddie Gibbs, Gunplay, Mannie Fresh, Lil Herb, Lil Bibby, Tink, Mick Jenkins, SaveMoney, Spenzo, Tree and Saba – so you know this show isn't to be missed.