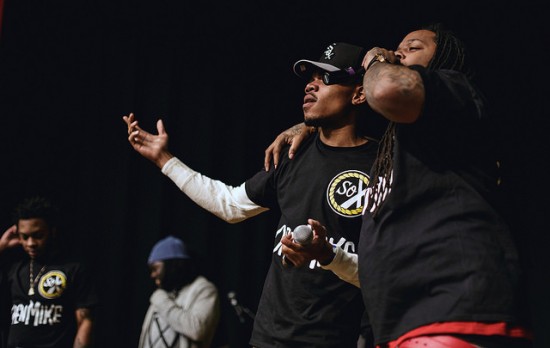 Chance The Rapper continues to be a torchbearer for uplifting Chicago youth, as earlier this week he hosted his first #OpenMike series alongside Young Chicago Authors, which highlights and promotes artistry for young adults and high school students. The event is titled #OpenMike in honor of Chance's mentor and friend, Brother Mike, who brought Chance through YouMedia and other various local creative avenues. This is a great way to memorialize a great man.
Chance packed out the Chicago Cultural Center with over 300 kids, who came out to try their hand at poetry, spoken word, rapping and comedy. And in true Chance fashion, he brought some of his friends along for the ride including Hannibal Buress, King Louie and Vic Mensa, who all showed their support in one way or another.
We're told this is the first of many similar events from Chance, so if you missed out, hit the jump to check out the photos by Andrew Baker. Stay tuned for details on the next event.