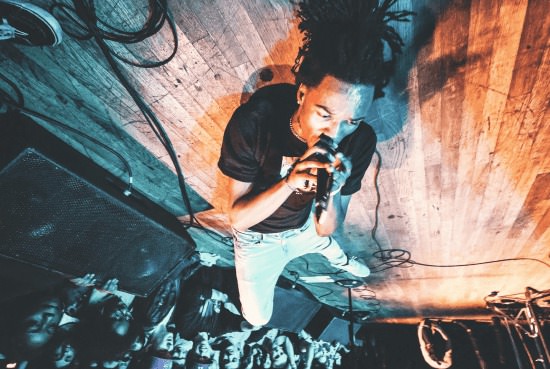 Words by Kevin Coval (@KevinCoval). Photo by Rene Marban
Welcome to a new FSD Feature from Chicago poet/activist/artist/philanthropist Kevin Coval, where he uses "verse-journalism" to review shows, events and other dope activities and ongoings in the City of Chicago. 
Kevin sees this as a way to document and practice what Gwendolyn Brooks calls verse journalism. Today Kevin kicks off the series with a verse review of Saba's most recent concert, which took place last Friday, April 24th at Bottom Lounge. 
Check out Saba In The ComfortZone below, and be sure to check out Kevin's latest literary release, The Breakbeat Poets, available here. 
a fog machine is not in the budget
but the blunt smoke covers it.
the lights in the back are low
giving proper shade to the young-ins
making out in the shadows
of the 18 & up show. in the crowd:
street and social entrepreneurs, hustlers
pushing fashion lines or white girl, white boys
who say the n-word right along with Ye
as the DJ warms the crowd. girls
in braids of all colors, all sizes hula hoop
in neon and glitter. glitterati. the cool kids
and cool bloggers all here to see
the young man
return to his city and his mamas
unfinished basement that he shares
with his older brother huddling
under naked light bulbs. the universe
of recorded sound at their fingertips
unlocking the combinations, praying
that it sounds right.
he is on
stage, fresh off a 19-city tour, his first.
he wasn't the headline, next time. but
tonight it seems like he got the whole
country behind him, or at least the city
or at least the west side. he is recently 21.
after the intro,
airy chamber music suitable for a spaceship,
he launches into a drum-less acapella, a hello
he says after. before the bass drops, the drum
kicks and bodies leap toward the heavens
he pauses visits the crowd stage right
and asks those gathered around the speaker
how many people came to see him tonight.
there is an eruption of young women
screaming, a melee of hands banging the sky.
he seems pleased and surprised despite
his name, large on the marquee. he's calm
says thank you and means it. introduces them
the entire venue, to the most important person
in the room, his mother, who is there
in the front row, standing before the speaker
speechless- later in the evening he will
play bars from behind bars
from his homie locked-
pre-recorded over the phone
but before
the turn up, before the building jumps
and bodies reject gravity, even white ones
amnesia self-consciousness and bounce
to this, he asks this section from the bottom
of his heart to protect his mother, to look out
for her during the show as if she were their own
mother so his mother can watch her son
shine