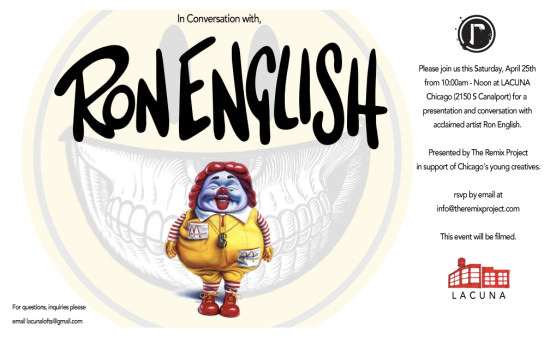 Acclaimed artist, Ron English, hits this Chicago this weekend for a very special lecture and presentation at The Remix Project headquarters at Lacuna Chicago (2150 S. Canalport, Floor 2). The event is in support of Chicago's young creatives and The Remix Project, and it takes place this Saturday, April 25th.
Ron's talk will be held from 10:00am to 12:00pm, and it is somewhat private. However, thanks to the good people at Remix and Lacuna, we have one pair of tix to giveaway to one lucky FSD reader.
Hit the jump to find out how these exclusive tix can be yours.
To win, you must have the best answer to the trivia question below, and Tweet me (you must follow me so I can DM the winner) with the hashtag #FSDGiveaway  @fakeshoredrive must be included in your tweet to win.
Why do you deserve the tix to see Ron English speak at Remix?