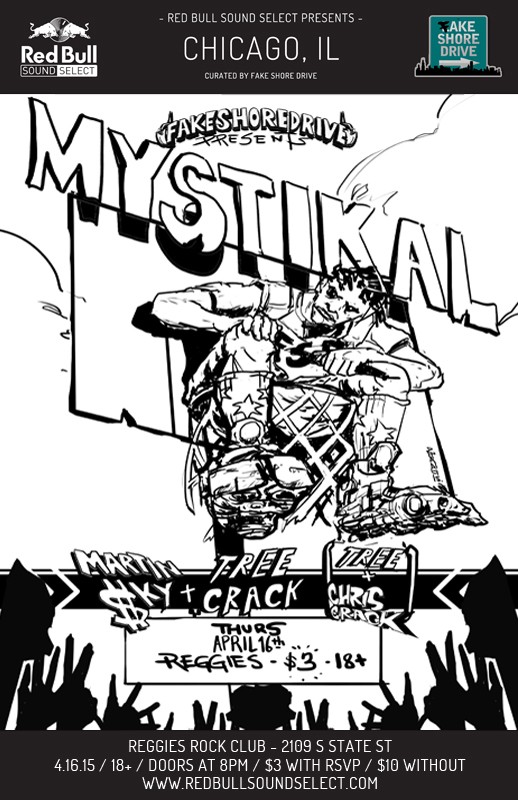 Artwork by Alan Versus Zhang for Hebru Brand
The man right chea! 
In February, we shut it down with Killa Cam, and we're back for April with the round out the tank, MYSTIKAL. Yes, we're bringing the Prince of the South to Chicago for our next endeavor with Red Bull Sound Select. He'll be running through his hits from Big Boy to No Limit to Cash Money — up to his new hit with Mark Ronson, "Feel Right."
For this month, we're back at our homebase of Reggies NEXT Thursday, April 16th for another 18+, $3 affair. And alongside Mystikal, we're introducing Martin $ky into the Red Bull Sound Select system. As you know, his recently released Everywhere But Here EP shook up the city when it dropped last month, so we're happy to welcome him to the main stage.
As we told you in February, this year we'll be slotting our shows a little different, and instead of bringing in three new acts every show, there will just be one, and then one from our already burgeoning RBSS roster. So we felt it was only right to bring you the world's first-ever Tree Crack [Tree + Chris Crack] show. Yes, you've seen Chris Crack and Tree perform together during each other's solo sets, but have you ever seen them as a duo? Nope. Well, you're going to on April 16th. The first-ever Tree Crack show — don't miss it.
Do remember, you must RSVP for the $3 price point. Do that now, and be sure to arrive at the venue early. First come, first serve, and we don't want any diehards missing out on the 12th Ward Prince. RSVP NOW. 
We've also put together a 6-hour playlist of Mystikal gems for you to prepare with. You can now check that out via Spotify below. Stream it! Enjoy.
Location: Reggies Rock Club
2105 S. State St, Chicago, IL 60616

Doors: 8pm

Age: 18+

Date: Thursday, April 16th 2015

Headliner: Mystikal

Sound Select Roster:
Tree Crack [Tree + Chris Crack]
Martin $ky
We also have dual artwork for this show, as you can see above and below. Yes, we're going all out per usual. Stay tuned for more details, giveaways and much more. See you on April 16th.