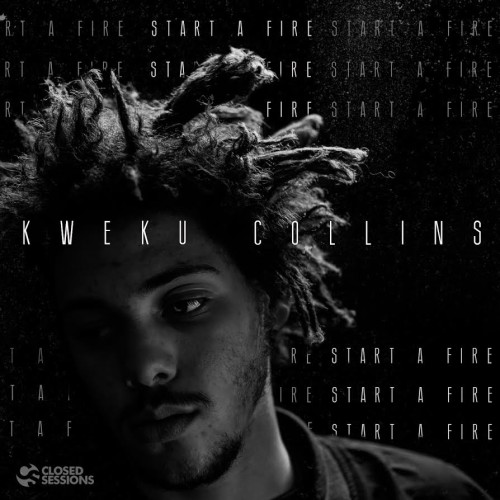 The ink is dry and the deal is done: newcomer Kweku Collins has official signed with Chicago indie label, Closed Sessions, making Kweku their second flagship artist (Alex Wiley being their first). So a big congrats to both parties involved. You may be wondering exactly who Kweku is, as his name might be unfamiliar to most involved in the local scene — but trust that it's a name you won't soon forget.
Today, we not only have the official announcement of his signing to Closed Sessions, but also a world premiere of his new record, "Start A Fire," as well as an interview, where we speak to Kweku about his inking to the burgeoning indie outfit.
Closed Sessions has had a great track record with artists and projects they've dropped since their inception, so we're certain that Kweku will carry on tradition with this new affiliation.
So get to know the Evanston native below the jump; where we premiere the high school student's "Start A Fire," as well as host an in-depth interview. It's a celebration!
FSD: What high school do you go to? Do any kids at your school know this is about to happen?
Kweku Collins: I go to Evanston Township High School (ETHS). A few people know about my signing, but not a lot. Mostly just my close friends.
FSD:  When did you start making music? Are you self-taught or have you studied with musicians?
Kweku Collins: I've been making music since I was a baby. My father is an amazing self-taught African and Latin percussionist. He's been my teacher since day one. But outside of percussion, I taught myself.
FSD: What told you were ready to release [your debut project] World's Away when you did? Did you imagine it would catch the attention of some key people like it did?
Kweku Collins: I knew worlds away was ready when the mixes sounded right. I had no idea it would catch people's attention like it did.
FSD: Similarly, what told you that you were ready to take this next step and join the Closed Sessions family? Does this feel like a new phase of your career?
Kweku Collins: I knew I was ready to join the Closed Sessions squad after Worlds Away dropped. People showed it so much love, I couldn't believe it. That was confirmation that I had a sound people were down for and that I was consistent.
This most certainly feels like a new phase of my career. So many doors are opening already that I couldn't have even fathomed opening on my own.
FSD: How did you become familiar with Closed Sessions and then make the connection?
Kweku Collins: I've been down for Closed Sessions for years, actually. They're central to what's going on in Chicago right now, and I recognized that from the jump. As far as making the connection, I just sent them an email one day with a description of myself and Worlds Away. To be honest, I didn't expect a reply. It was a trip when they responded.
FSD: What do you know about the Chicago hip-hop scene and how is it looked at by kids in Evanston?
Kweku Collins: A lot of kids here fuck with Chicago hip-hop. Even the hella north suburbs get down.
FSD: Talk about this specific song & the story behind it.
Kweku Collins: I made this track at like 9 am. We had a late start at school, so I had some extra time. Everything came together mad quick. The lyrics came out hella easy. I had just signed to CS, and was brimming with excitement, which I tried to convey on this track. I made tweaks here and there over the next couple weeks.
FSD: How are you feeling 24 hours before this new song & phase of your career gets going?
Kweku Collins: 24 hours before this song drops and this new phase of my career starts, I'm ecstatic. I can't explain how happy I am right now. I honestly can't believe this shit is happening. I'm waiting for somebody to jump out at me like "SIKE"!