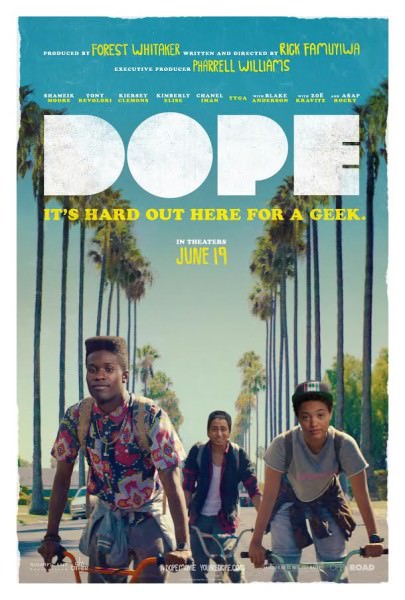 On Monday, June 1st, we're hosting a PRIVATE screening of the movie, DOPE, at a movie theater in Chicago. We have our very own theater room where we'll be screening DOPE before it's released in theaters nationwide on Friday, June 19th.
A critical hit at the Sundance film festival, DOPE pay homage to Hip Hop classics from the 90's and features four new original songs by Pharrell Williams who is also an Executive Producer along with Sean Combs. The cast of DOPE features Zoe Kravitz, A$AP Rocky, and Tyga among others. (you can watch the trailer here)
Today, however, I have 10 pairs of tickets to giveaway to 10 lucky FSD readers. Hit the jump to find out just how these tickets can be yours. There is also a full synopsis of the film below.
To win, you must have the best answer to the trivia question below, and Tweet me (you must follow me so I can DM the winner) with the hashtag #FSDGiveaway  @fakeshoredrive must be included in your tweet to win.
Tell us why YOU deserve FREE tickets to this show
Release Date: June 19, 2015
Director/Writer: Rick Famuyiwa
Producers: Forest Whitaker, Nina Yang Bongiovi
Executive Producers: Pharrell Williams, Michael Y. Chow, Rick Famuyiwa, David Lonner
Co-Producers: Mimi Valdés, Caron Veazey
Co-Executive Producer: Sean Combs
Cast: Shameik Moore, Tony Revolori, Kiersey Clemons, Blake Anderson, Zoe Kravitz, A$AP Rocky, Chanel Iman, Quincy Brown
A critical hit and audience favorite out of the Sundance Film Festival, in DOPE, Malcolm (Shameik Moore) is carefully surviving life in a tough neighborhood in Los Angeles while juggling college applications, academic interviews, and the SAT. A chance invitation to an underground party leads him into an adventure that could allow him to go from being a geek, to being dope, to ultimately being himself.