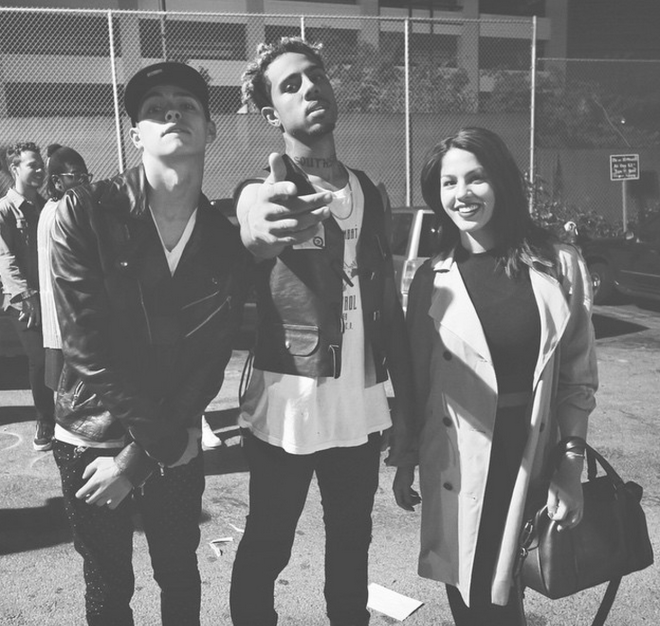 FSD: How did you meet Chance The Rapper, Vic Mensa and the SaveMoney crew?
A friend of mine named James Davison, started showing me Chance. I listened to Acid Rap, and "Good Ass Intro" blew me away, like with the sound of it. I was like "alright cool, I'm gonna choreograph to it." It's right up my lane, it's different, it's unique, it's music that excites me. I ended up choreographing to that, and posted a video online in February of 2014. Chance hit me up on Twitter, and wanted to work on something but he was pretty busy. I caught him in kinda a bad time when I posted that video, but he was obviously really geeked about it.
But in the mean time, my boy Cody [Kazarian] reaches out to me — who was my next door neighbor — and also happens to co­-manage Vic Mensa. I had known Cody was working with an artist for forever, and I just didn't know who. It was crazy, two and two got put together, and just naturally, I went to a couple sessions with Vic. We vibed out, talked about doing something for "Feel That." I cameoed in his video, he cameod in mine. At that point, me and Chance were supposed to work together three or four times, and every time we were busy, it just didn't work out. We saw each other during Thanksgiving week and talked: "Dude we gotta work on something." Sure enough, Austin Vesely, the director of "Sunday Candy, hits me up this February to choreograph it. He didn't even know Chance knew me at the time. He told Chance, and it all came full circle. Really cool, ready to go. Once creatives get together, that's the easy part. It's been a cool little journey so far, hopefully we get to do a lot more stuff together.
FSD: How was the atmosphere working on the "Sunday Candy" set?
Ian Eastwood: Well it was really cool, because Chance and Austin had written up the treatment, and they just wanted me to come choreograph. But because so much of it had to do with movement — the thing is all one shot — it just worked out that I was able to help Austin in the choreographer and directing realm and just timing things out. I was really thankful and grateful, to be credited as a co­director. They kinda just threw that on there, just because of all my hard work. We all worked really hard, we weren't necessarily getting like crazy money or anything.
It was kinda a passion project for everybody. Obviously for me, someone who is trying to become a director, that was a huge stepping stone for me, that I didn't even ask for. They just gave that to me because they genuinely felt it. That's helped me get a couple things I have in the works right now. It was a really cool, life-­altering experience.
FSD: And DLow was in it!
Ian Eastwood: DLow was super awesome. I had Chicago footwork in it, which I've known since I was 12-­13 [years old]. All of that was crazy. Whole circle Chicago. Chicago at its finest.
FSD: Can you describe your ties with Chicago?
Ian Eastwood: I was born and raised in Oak Park. Three blocks from the city one way, five from Austin the other way. Chicago has been a huge, crazy part of my cultural upbringing. What's crazy is that, I didn't realize how Chicago I was until I moved away to L.A. and started traveling like crazy. I've been to 27 countries to teach over the last five years. It's crazy because, it's just such a part of your mentality, your mindset, the way you treat other people, the way you feel about whatever you're passionate about. Friendship, morals — it's such a big part of who I am. So much of that, I didn't realize, derives from where I am from. Just having pride and being genuine in the things I say and the people I meet.
That's why the "Sunday Candy" video was so cool. No one had any ego, everyone was just there. That video was just a lot of people coming together to make something cool. It wasn't for money, or for bragging rights. It wasn't for anything other than to make a cool art project. I think that moment is a big moment for me and where I am from, because I mean, I've always had pride of where I am from.
But when you live there, everybody is proud. It's when you leave, and you really need to let people where you're from. You need to show them why you are the way you are, that you grew up around these people, and that this is why you think that is right and that is wrong. That's what you believe in. That's what really shaped me, being a kid from Chicago.