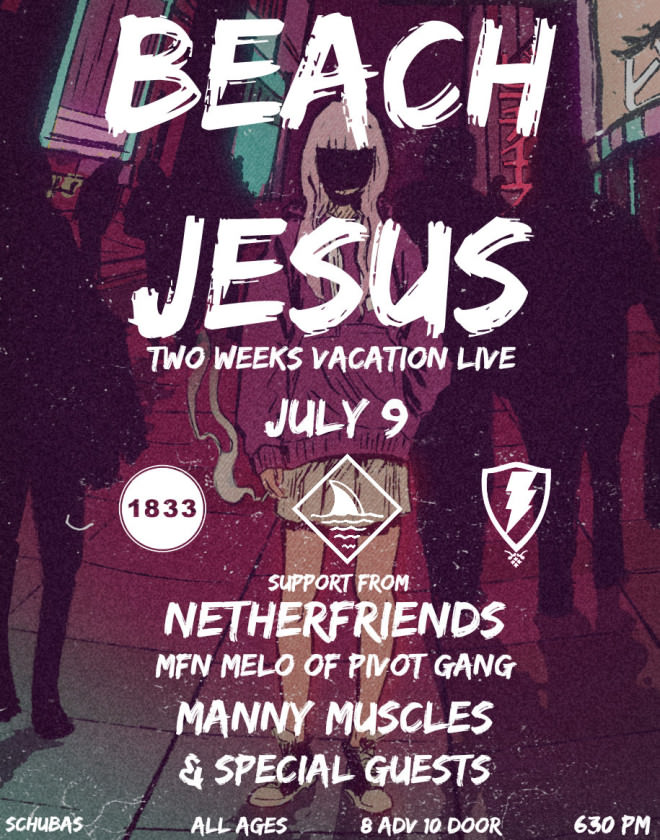 The squad of Chandler London, JAROMY, Seer, and Jessiath — otherwise known as Beach Jesus — hit Schuba's tomorrow night (July 9th) for a release concert for their very-dope new release, Two Weeks Vacation. And today we've partnered with the good folks at 1833 presents to giveaway a pair of tickets.
1833 presents

BEACH JESUS

Along With
NETHERFRIENDS
MFN MELO
MANNY MUSCLES
& SPECIAL GUESTS

SCHUBAS
THURSDAY, JULY 9TH
DOORS AT 6:30 PM | ALL AGES
Tickets are still available here.
But find out how to win a free pair below.
To win, you must have the best answer to the question below, and Tweet me (you must follow me so I can DM the winner) with the hashtag #FSDGiveaway. @fakeshoredrive must be included in your tweet to win.
Why do you deserve tickets to this show?