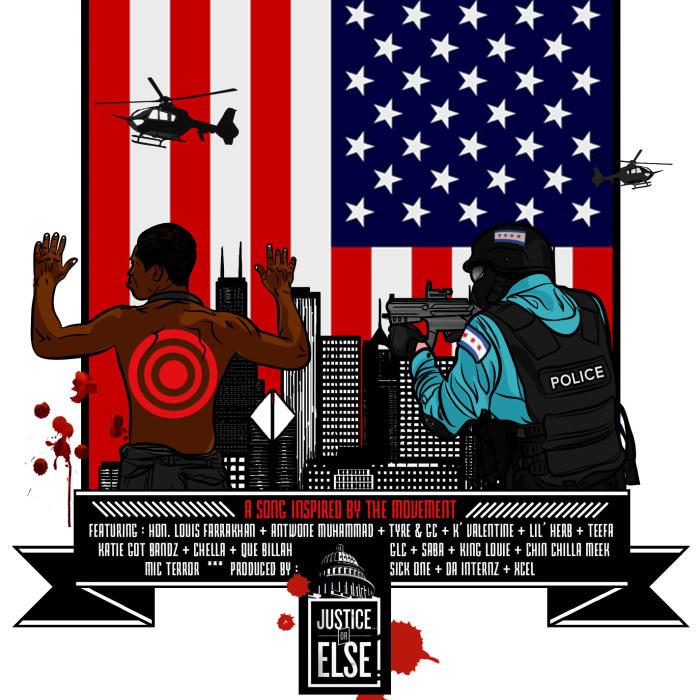 Produced by SickOne, Da Internz & Xcel
Wow. This is a moment. The always-inspiring Antwone Muhammad (the artist formerly known as Twone Gabz) has done it again — this time alongside producer Sick One. They were able to get a vast majority of Chicago's hottest artists and producers together on one track for a great cause, and to take a stand against social injustice. No one can fight the battle alone.
Community violence, police brutality, unity. Something has to be done, and Twone and Sick plan to move the needle with  "Justice or Else." This is a big. And it's also in celebration of the 20th anniversary of the Million Man March, which takes place October 10th, 2015 in Washington, DC.
The official star-studded lineup is as follows: Antwone Muhammad, Chin Chilla Meek, Tyre & G.C, K'Valentine, Lil Herb, Mic Terror, Teefa, Katie Got Bandz, Chella H, Que Billah, GLC, Saba, King Louie. But enough from me, I'll let Antwone and SickOne do the talking from here on out:
Chicago has become a breeding ground for violence in the Black and Latino communities while police brutality dowses the fire of tension among the youth. In the midst of it all, Chicago artist Antwone Muhammad (formerly Twone Gabz) and producer SickOne organized Chicago's hip-hop community in a collaborative effort to address the violence and injustice as well as help Min. Louis Farrakhan organize the 20th Anniversary of The Million Man March taking place 10-10-15 in Washington D.C. Inspired by the theme of the march, this song is entitled "Justice Or Else".  The song actually features The Hon. Louis Farrakhan along with a host of Chicago artist such as King Louie, Saba, GLC, Teefa, Katie Got Bandz, Chella H, Que Billah, Mic Terror and more. The songs production is also a collab with SickOne, Da Internz & Xcel. For anyone in the Chicago area looking to attend the "Justice Or Else" event on 10-10-15, please email unmuted2015@gmail.com for more info.