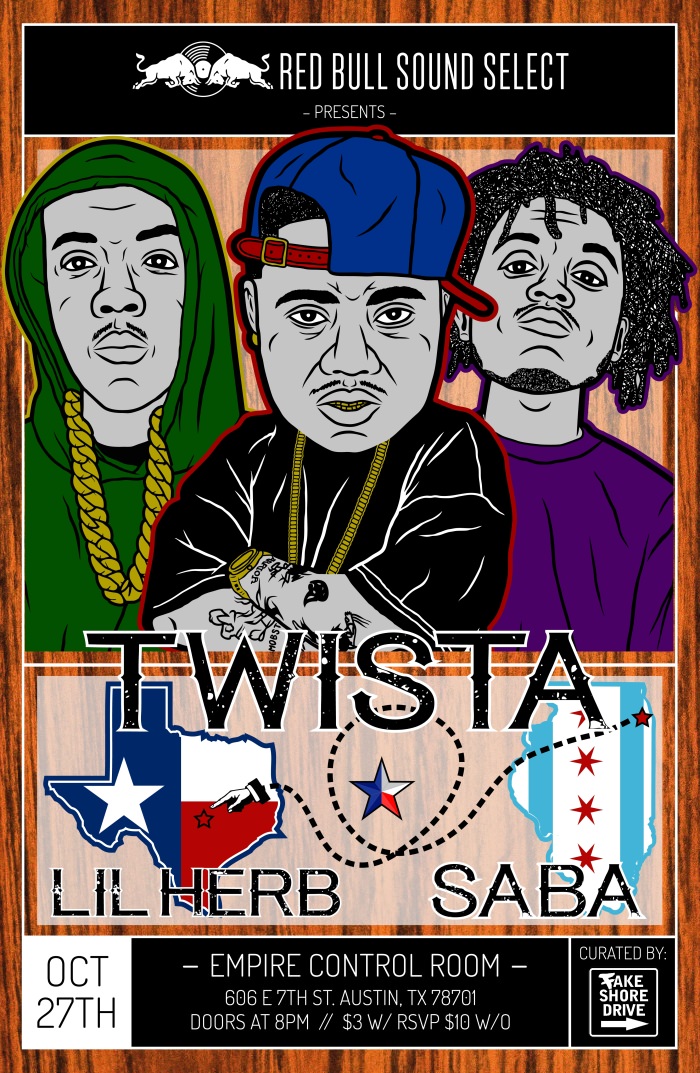 Art by Manny Renteria (@genesus1991)
We're taking our show on the road.
After years of lacing Chi City with the very best Red Bull Sound Select concerts, we're taking our talents down to Austin, TX on 10/27 for an all Chicago show at Empire Control Room. Yes, that's correct, we're taking Chicago to Austin for our three the hard way event featuring Twista and Red Bull Sound Select artists Lil Herb and Saba. Pretty much the dream team. A true taste of Chicago. And as always, it's all for the low, low price of $3.
We have plenty of surprises on deck, as well as Chicago fare for the good people of Austin, so if you're in the area, be sure to RSVP now. If you're in Chicago and don't want to miss this extravaganza, we suggest you book your travel now. It's going to be one for the ages.
The living legend Twista? And the destined-to-be legends G Herbo and Saba? Flawless victory. RSVP here. 
Location: Empire Control Room

606 E. 7th Street, Austin, TX 78701

Doors: 8pm

Age: 18+

Date: Tuesday, October 27th, 2015

Lineup:
Twista
Lil Herb
Saba