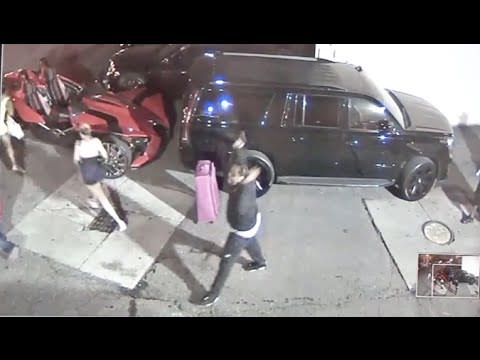 The two men charged in the murder of Detroit rapper Dex Osama spent another day in court Friday, where footage was shown of the shootout that transpired in front of the Crazy Horse strip club the night of Dex's fatal shooting.
Footage shows Dex shooting into the air as the altercation reached a fever pitch. It's reported that Dex fired the first shot.
Watch the footage below.
Rapper Dex Osama was the first person to fire a shot at a Detroit strip club the night he was killed, according to testimony in a Detroit courtroom today.

Surveillance video captured the scene outside Crazy Horse on Michigan Avenue leading up to the fatal shooting of Osama, whose legal name is Byron Cox. Several angles were played in court during a preliminary examination for two men charged in the case, including footage showing Osama being shot.

Otis Davis, 46, faces charges of open murder, possession of a firearm by a felon and felony firearm. Dietrick Odums, 31, is charged with assault with intent to murder, possession of a firearm by a felon and felony firearm in connection with the fatal shooting.
The video "speaks for itself" 36th District Judge Kenneth King said, before ruling both men should proceed to trial on all charges.

"This kind of stupid, outrageous conduct in this city has to stop," he said, noting he's not saying Cox is "any angel."

According to testimony, Cox fired a shot inside and another outside the club before he was fatally shot by Davis. Rapid gunfire is heard on the video after the up-and-coming rapper is shot and runs away.

Davis' attorney, Todd Perkins, argued his client shot in self-defense and said Davis believed Cox had a firearm in his hand when he shot.