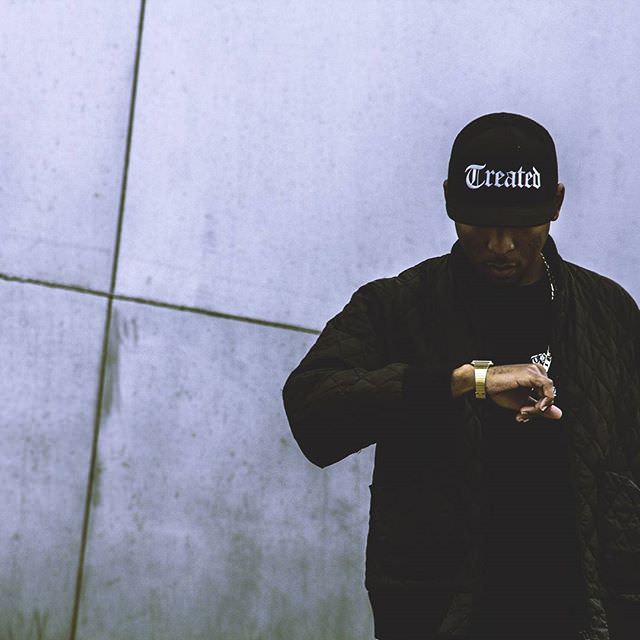 Words by Clynt Johnson (@BornRaisedChi)
We recently sat down with one of Chicago's most influential (read: bitten) artists and Treated Crew repper Mic Terror for our latest artist spotlight. Mic T has been one of the leading figures in the Chicago movement for years and is currently making waves on the 'Late Pass Tour.' We were able to spend some quality time with Terror, and asked the important questions such as what he likes to eat, his sports knowledge, and his impact on Chicago. Get the skinny below.
FSD: Who is Mic Terror?
Mic Terror: Mic Terror is a man in the most classic meaning. Thorough, honest, loyal, honorable, brave, etc. Not an ounce of bitch assness. My job is being a top five dead or alive level MC that the masses may not know about, which will change soon. But those that know, KNOW. A founding member and leader and co-owner of Treated Crew, the Chicago art teamsters. We dabble in everything from fashion, to music, to movies. That's pretty much who Mic Terror is …
FSD: What's next for you as an artist?
Mic Terror: I'm getting more into writing and producing for other artists. I've been writing songs for the Empire show and Quentin Miller-ing for some other artists. I've been working on my next couple of projects and overseeing and helping all the Treated Crew homies with their projects as well. Bossing up pretty much taking ownership, cutting out useless middlemen. I just bought a studio called Studio 20/3 in the River West area of Chicago, which opens next month. Wearing way more hats then when I first came in the game
FSD: Do you cause terror anywhere else besides the mic?
Mic Terror: I'm an extremely calm and quiet individual, so not often, but my persona on songs is very much ME and I'm about that life, if you want terror. But for the most part just on the mic.
FSD: Who was the first person that said 'keep going?'
Mic Terror: I can't pinpoint the first person that told me, but I know the two people that said it to me and it motivated me when I really did feel like quitting. Those two are my brother JDott Trife, God bless his soul, and my brother Lungz. I remember Lungz pulling me to the side one day at a club and just saying "you know you better than all these mufuckas right? I need to see you out here doing your thing."
JDott was one of our many long ass convos at Beauty Bar on TimbuckTuesdays. He [Trife] was expressing to me how seeing me out here still doing it made him keep going for it as well. This happened with both of them like two days a part, when I was really feeling a certain way about the game and giving up. I feel like God spoke to me through those two brothers to tell me I ain't done yet, and I took heed.
FSD: What was your last meal? Was it any good?
Mic Terror: My last meal was a pizza from Mariano's, and it was fye.
FSD: Do you believe whoever said progress was a slow process wasn't talking about you?
Mic Terror: I think real true progress, with a real solid foundation is a very slow process. I've been on that road, it's been many times I could've signed a lot of dick-in-the-booty-ass contracts and be more famous and successful according to public perception, but I'm in it for the long run. I'm here to leave my son something when I'm gone. I'm owning shit, it's a different grind from most rappers. It takes longer but the rewards are bigger.