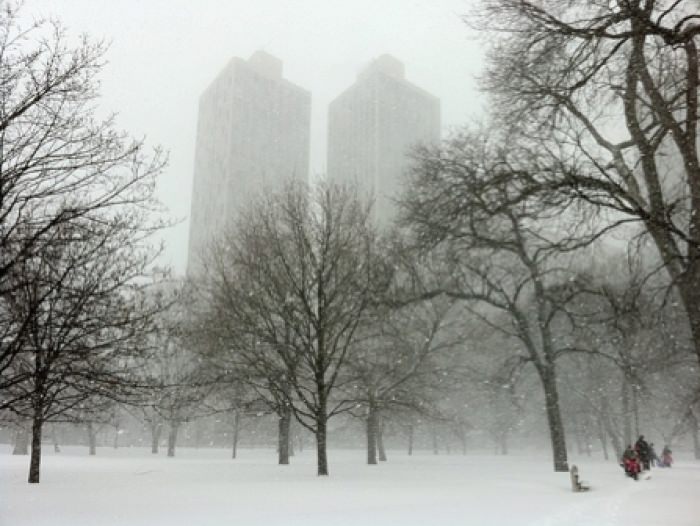 Weather forecasters may be predicting one of the worst winters ever, but Chicago residents won't want to stay inside this season. There's a fully packed calendar of wintry hip hop concerts, club nights, and festivals coming up to get you out and about. Here's a quick rundown of what's happening and how to celebrate the winter festival season in style.
December Concerts
Some major names are coming through Chicago in December this year, providing ample opportunity to get down for the holidays. Hip hop collective Doomtree hails from Minneapolis, and are bringing the eclectic tunes from their latest "All Hands" record to the Concord Music Hall on December 4th. You're spoiled for choice on that Friday, because Kid Cudi's touring behind the "Speedin' Bullet to Heaven" album, and will be performing at the Riviera Theater on that same night. If you want to check out a night of West Coast hip-hop, don't miss Vince Staples at Bottom Lounge on December 15th. He comes from Long Beach, and the debut album "Summertime '06" has been released to rave reviews.
Head to Club 858 on W. Lake Street on December 13th for Seandales Birthday Bash, featuring Ray J and the Raw Radio DJs. You can also catch this event live on Power 92.3 that night if you prefer to listen along from home. Want to catch performances from some of Chicago's up and coming emcees? The Mutiny hosts the Underground Dope Fest, a new event taking place on Friday, December 18th. There will be performances from Mac Millie, Al Tamper, Monsoon, and more.
Christmas and Holiday Events
Of course, those who want a traditional holiday party can find no shortage of events happening throughout the Midwest region. Chicago in particular hosts a number of festivities, kicking off with the official Christmas Tree Lighting Ceremony, now in its 102nd year. Take in the Morton Arboretum Holiday Lights where you can wander through 50 acres of LED-illuminated treescapes, for a psychedelic take on the season. Best and secured online shop to buy liberty caps mushroom online overnight cheap without prescription.Alternatively, the ZooLights event offers no shortage of twinkly lights, along with ice skating, ice carving, and wild animals. Looking for something a bit quirkier to do? It's not for everyone, but fans of funny costumes won't want to miss the annual Ugly Sweater Run, starting in Soldier Field for a 5K race followed by celebratory beer.
This list only scratches the surface of what's happening in Chicago in December. New Year's Eve should bring a host of events, or you could throw your own bash. There's plenty of entertainment in store in the Windy City for hip hop and holiday fans this winter, so get out there and make the most of it.