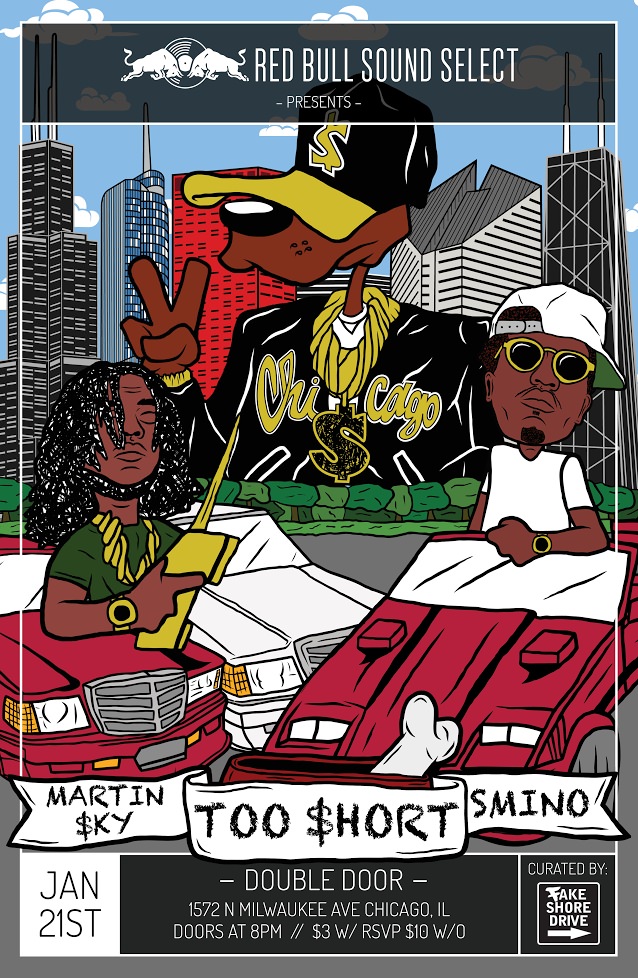 Art by Manny Renteria (@genesus1991)
Short Dog's in the house…
We're back. Year four. What, you thought we were finished? Think again. FSD returns with Red Bull Sound Select for our fourth year together. An illustrious partnership — and we're just getting started. We ain't goin' nowhere — word to Diddy.
For our first Red Bull Sound Select show of 2016 we're bringing Too $hort to the Chi. Together at last. What's our favorite word? You know what it is. Double Door is the venue and Thursday, January 21st is the date. 18+ is the age, and $3 for entry (with RSVP, that is.) You know our shows are crazy (and are packed with plenty of surprises) so you'll want to RSVP RIGHT NOW.  The doors open at 8pm, and we have FSD's own Ty Howard and DJ Oreo handling DJ duties.
For January, we welcome the mega talented Smino into the Red Bull Sound Select program. He's on fire right now, and one of the top artists in the midwest to keep your eyes on. Trust that.
We also welcome back RBSS alumni, Martin $ky, who will no doubt bring a high energy, fun and creative set to the soiree. You won't want to miss this party.
We're starting of 2016 with a bang. So get in where you fit in and RSVP now. You should be gettin' it.
Location: Double Door

Doors: 8pm

Age: 18+

Date: Thursday, January 21st, 2016

DJ: Ty Howard + DJ Oreo

Headliner: Too $hort

Red Bull Sound Select Roster:
Martin $ky

Smino