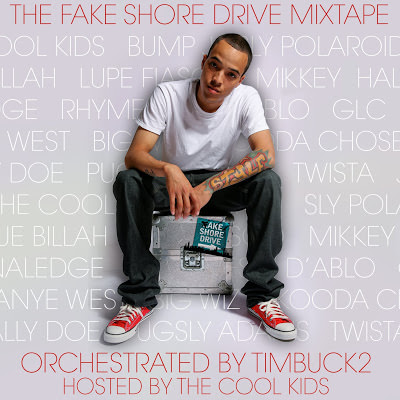 In light of the tragic passing of a Chicago legend, DJ Timbuck2, we felt it was only right to revisit our 2009 mixtape with Tim, aptly titled The Fake Shore Drive mixtape. The original link has been inactive for a few years, so after a number of requests today, we decided to re-up.
Tim and I spent six months (probably closer to a year) working on this mixtape, with help from Marc Moran, John Seyferth and Michael Kolar at Soundscape Studios. As you've probably heard, Tim was a perfectionist in every sense of the word, so he wouldn't let it go with out it perfectly crafted. Plus locking in The Cool Kids to record their parts was no easy task.
FSD was only a year or two old at the time, so for so many artists to give us exclusives and unreleased music for the project was truly a blessing. Twista, Lupe Fiasco, GLC, Mikkey Halsted, The Cool Kids and others were gracious enough to bless us with unheard and unreleased material. The crown jewel, however, was "Youngest In Charge," which featured Bump J spitting over a The Twilite Tone beat. Crazy, right?
Also note that this was the first mixtape of all original music released by a rap blog. It also stands as our only mixtape to date. Tim's too, for the most part. He didn't just do any mixtape or commit to hosting things. History. Timbuck2 will be greatly missed, but we will make sure he lives on through his music. Revisit this project in memorial of an innovator and hip-hop icon. Rest easy, Tim.