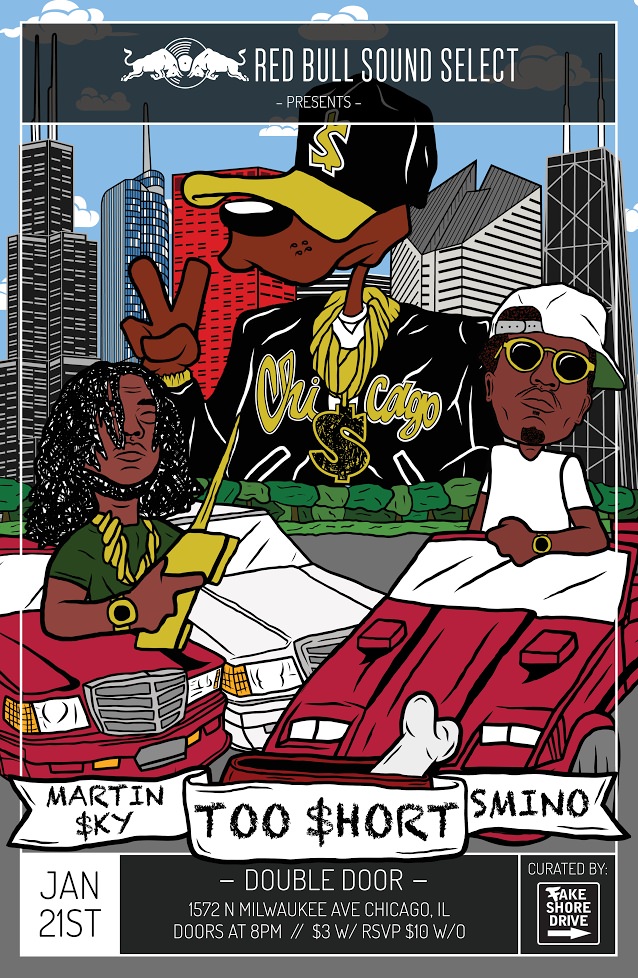 Next Thursday, January 21st, we kick off our very first Red Bull Sound Select show of 2016. You know you've missed us. We left you back in September with Ja Rule, but now we're live and direct with $hort Dog at the Double Door.
Rounding out the bill are Martin $ky and Smino, so you're guaranteed to see one hell of a show. Oh yeah, and @someguynamedty and DJ Oreo will be handling DJ duties, so you can imagine how crazy this night's gonna get.
Do remember, you can RSVP right here, right now for $3. Otherwise it's $10. Why not RSVP now and save? We suggest you do so. Doors are at 8pm so be sure to arrive early. It's an 18+ affair just so you know.
Location: Double Door

Doors: 8pm

Age: 18+

Date: Thursday, January 21st, 2016

DJ: Ty Howard + DJ Oreo

Headliner: Too $hort

Red Bull Sound Select Roster:
Martin $ky

Smino
Today, however, we have two pairs of VIP tickets to giveaway on to two lucky FSD readers. Hit the jump to find out how the tickets can be yours. But first — check out our official Too $hot playlist on Spotify. It will keep you prepared for next Thursday. See you there!
To win, you must have the best answer to the question below, and tag me (you must follow me so I can DM the winner) with the hashtag #FSDGiveaway. @fakeshoredrive must be included in your tweet to win.
Which artist are you most excited to see perform, and what song do you want them to play?