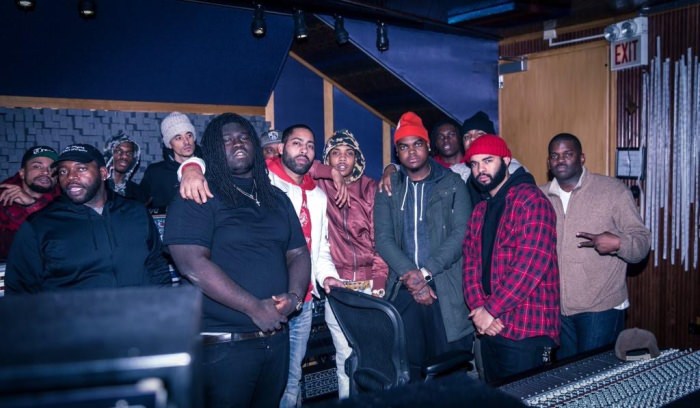 Fresh off his first headlining domestic tour, G Herbo returned to Chicago to break ground on his official still-untitled debut album. Not a mixtape, not a 'street album' — the real debut. And last night, Herb hunkered down alongside some of the world's best producers — who just so happen to reside in Chicago.
Herbo, and Machine Entertainment Group honcho Mikkey Halsted, were joined by the likes of Mano, Young Chop, C-Sick, DJ L, Thelonious Martin, Deezy, Tapez and more at an undisclosed studio in the Chi to break ground on the album. What started off as a production meeting turned into a full blown session, with the room of likeminded talents serving as a braintrust for Herb and the album.
Beats were picked, ideas were tossed around, and I'm told the creative energy was out of this world. Take a look at this picture — this is a very big deal. They've assembled quite a team for this one, so I'm expecting nothing but greatness. Rumor has it a few joints have already been completed, and it's sounding astounding.
We'll keep you posted as more details become available to us, but just know that big things are on the horizon for this one. Color us excited.