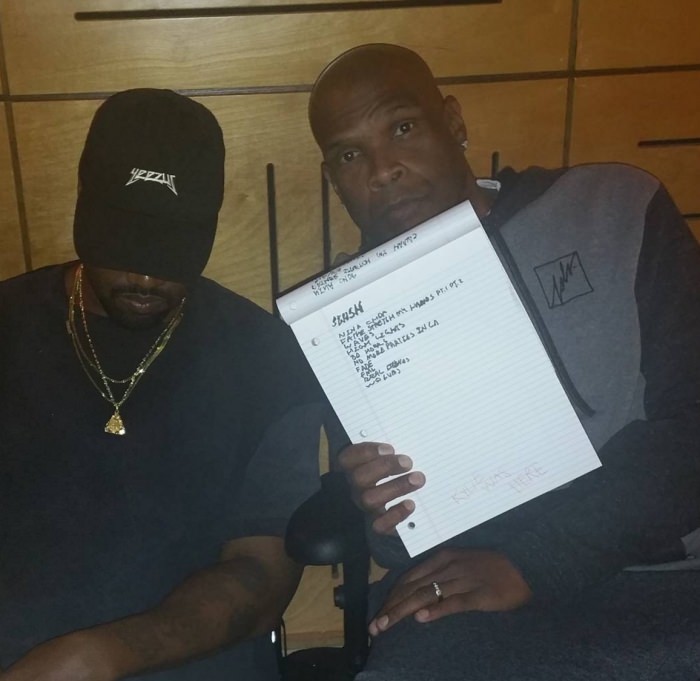 Late last night, Kanye West took to Twitter to reveal the official track list for his forthcoming album, Swish. Heated conversations followed, with fans excited and/or angry that the project was only 10 tracks deep (and happy "Wolves" will finally drop.) But a lot of people were asking what happened this week's G.O.O.D. Friday leak. Well, it might be a little late, but it has the opportunity to be better than we expected.
Los Angeles radio personality, Big Boy, took to his Instagram late last night to post a picture with Ye and the track list, and made an announcement regarding this week's leak, which could quite possibly feature Chance The Rapper — since Chance took the picture.
Says Big Boy:
Good Friday is running a lil late.
They're creating something from scratch in here.
Not only is Chance The Rapper a lyrical beast…..he's also a GREAT photographer. Hellllooooo.
#Swish #KanyeWest #HandWrittenTrackList #ChanceTheRapper #ItsComing
Last week's G.O.O.D. release dropped on a Monday, so could it be that a Chance and Kanye collab is coming sometime today? Big Boy is hinting that way, so we shall see. We hope the answer is yes.