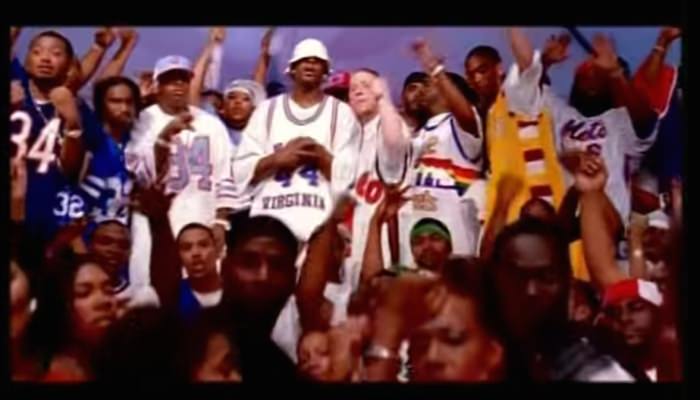 Wow. This is a real treasure. The stuff of legend, to be honest. Over the past few days, I've been chatting with Harvey-based rapper, Static, regarding his unreleased video and song with R. Kelly called "Toot Toot, Beep Beep." The story of why you never heard or saw it is even crazier than the song.
Back in 2004, during Kells' mid-2000s hot streak and smack dab in the middle of his criminal trial, Rob and Static connected to record "Toot Toot Beep Beep" — a track Kelly featured on and produced. The track was so hot that they decided to film an accompanying video for it in 2005. At the time, Kells was fresh off a string of hits and at the top of his major label game (despite the charges), and Static was a hungry, up and coming independent artist from Chicago.
The video was 100% funded by an indie label — Third Millenium Records — but it looks as good as anything you would've seen on 106 & Park at the time. The song was radio-ready and the video was spot on for the era. This is vintage Kells, right here. So why have we never seen the video until January of 2016?
Well, to let Static tell it, R. Kelly stalled then blocked its release — after being paid. According to Static, there was some question as to the age of the females in the "truck scene" of the clip, so in fear that it would hurt his case, Kells refused to sign off. In fact, various news outlets were on the video set interviewing girls in the video, asking them how old they were.
Static claims he had proof the women were of age, but Kells then disappeared and stopped communication. Jive was interested in pushing it as a single, but unfortunately for Static and Third Millenium that never happened. Thousands of dollars were wasted and the small indie label saw no return on their hefty investment. That's the music biz for you.
Static has been sitting on this video for 11 years, but decided to release it a few days ago after a conversation with a relative of late-Harvey rapper Q-Storm, who convinced him to share it with the world and tell his story. It's too bad this video never saw the light of day when it was meant to, but hearing/watching it now will bring a smile to your face.
I guess it's never too late to give it a push. Watch the video, which will take you back to XXXL throwback jerseys and bucket hats below.