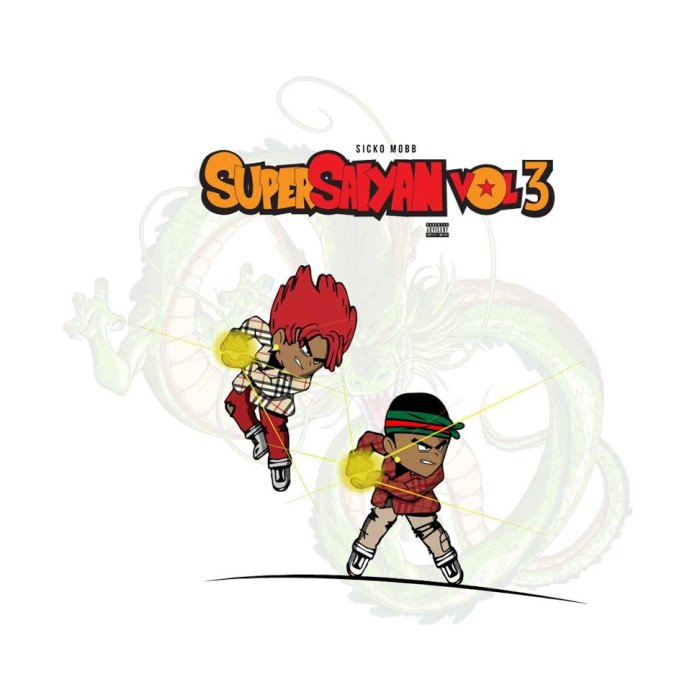 Review by Rohit Loomba (@poombster)
The Chi has been responsible for several music trends, whether it be House music, double-tempo rap, Drill music, or most recently, Bop. Bop is the result of the large coexistence of footworking and rap in Chicago. More uptempo and pop-inspired, Bop is meant to make people dance. This is where Sicko Mobb enters. Compromised of two longtime friends, Lil Trav and Lil Ceno, Sicko Mobb has carved their own lane out in the world of music, establishing themselves as the leaders in Bop. They recently released their 13-track mixtape Super Saiyan Volume 3, the latest addition to their mixtape discography.
Production on the mixtape comes from a variety of producers. 808 Mafia and Da Internz make appearances along side other producers such as Ikon, Cryptonite, and DJ Nate. As one would expect, the production is Bop-influenced, more up-tempo with rolling drum lines. A large number of tracks on SSV3 start off with an introductory segment that lasts a few seconds and then is faded out of with a slowed-down record effect. Not certain what the inspiration behind this is but after hearing multiple times the novelty of this is lost. The production overall isn't very refined and at times lacks adequate mastering. The production is often overshadowed by the dominating vocals. 808 Mafia brings a thicker, more complete production effort on "What You Sayin" which is one of the production standouts on this mixtape along with Cryptonite's "Expensive Taste".
The vocals on SSV3 dominate each track. This isn't necessarily because of the quality but just because the levels on the vocals really leaves them to overpower the production. There is also a lot of autotune, as has been the case with previous Sicko Mobb releases. While this works for some artists quite well, it is hard to make that argument for Sicko Mobb consistently. The lyrics are nothing groundbreaking either but then this is Bop music so Sicko Mobb gets a pass here. None of the hooks are particularly catchy either, many of them are really unintelligible between the tempo and autotune, requiring a few listens to decipher what is being said. Lil Trav and Lil Ceno handle most of the mixtape by themselves although they are joined by Jeremih on "Expensive Taste", Jay 4 on "Going In", DJ Nate and Suwu on "Eaters". Jeremih is a welcome feature and offers the most easily understandable lyrics on the album and appears on what is the best overall effort on this mixtape.
Perhaps fans of Sicko Mobb will truly enjoy SSV3 but it seems unlikely that this release will garner them any new fans. Bop is at an interesting crossroads and it is up to groups such as Sicko Mobb to keep it on the map which will require more refined, polished releases. More crisp production and a greater focus on lyrics and vocals would be welcome for the next installment from Sicko Mobb,
2 (out of 4)
-Rohit Loomba