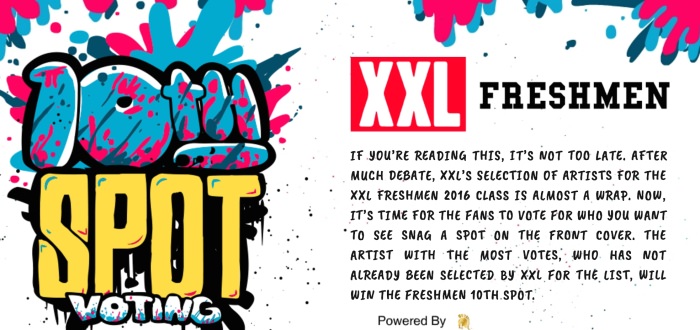 Words by Quentin Yarolem (@QuentinYarolem)
XXL just released their list of potential 2016 freshmen candidates, and Chicago is represented very nicely. Of the roughly 150 candidates, 10% are repping the Chi. To put that into perspective, only two cities have more and that's Atlanta with 15% and Brooklyn with 10.5%. If a Chicago artist is selected for the XXL freshmen class of 2016, they will join the ranks of Tink, Chance The Rapper, Vic Mensa, Chief Keef, Lil Bibby and Lupe Fiasco as the only Chicagoans to ever land on the cover.
Historically, Chicagoans have made up a very small portion of the XXL Freshman recipients. Only six of the total 74 freshmen have been from Chicago — but that number has been on the rise over the past few years. From 2007-2012 there was only one Chicagoan chosen to be on the XXL list (Lupe Fiasco). That's one out of 51 total freshmen. A dismal 2%. From 2013 on however, there have been five of a total 33 which comes out to be roughly 15%.

The Chicago scene has been booming since the 2012 gold rush, so it's easy to see why they have been so heavily represented lately. The music that comes out of the city is both polarizing and unifying. The city that created and popularized drill music is the same city that is home to poetic rappers like Noname Gypsy and Mick Jenkins.
This year, the artists up for nomination range from Dreezy and Montana of 300 to Towkio and Saba, and all have a chance at grabbing a spot on the list. Chi City OGs such HXLT and Vic Spencer have a shot as does Taylor Bennett who has a chance to follow in the footsteps of his older brother Chance The Rapper and land on the cover. Mick Jenkins and G Herbo seemed to be locks for last year, and are still in contention for this year's cover (both deserving.)  Check the list of Chicago artists below and make sure to vote for your pick over at XXL.
Mick Jenkins
Taylor Bennett
Saba
Towkio
Alex Wiley
Chris Crack
Dreezy
G Herbo
HXLT
J.R. Donato
Johnny May Cash
Montana of 300
Spenzo
Tree
Vic Spencer