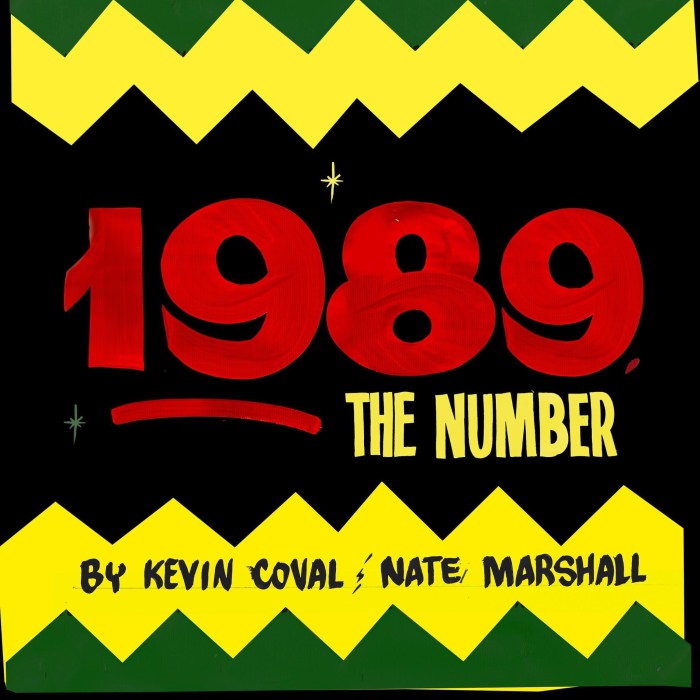 Our homie Kevin Coval has joined forces with Nate Marshall on some Drake/Future type ish to bring us the new and free chapbook and audio book, 1989, The Number. This project, much like Drake and Future's, was put together in six days as the creativity was in abundance. And yes, some of the greatest works ever were created in environments such as these, and 1989 is no exception.
It's Kevin and Nate's gifts to the fans for rocking with them throughout their The Breakbeat Poets anthology. It's all about the fans, then what better way to treat them than with some new product. Also, tomorrow night these two are hosting a free event and reading at the Silver Room in celebration of its release from 7-10pm. Details and more information can be found right here. 
So click here to check out 1989, The Number in its entirety, and also check out the carefully crafted playlist inspired by the great year of 89 and by the project. **Sound of the funky drummer**
1989, the number is an exploration of the year 1989 through politics, personal history and culture. This chapbook plays like a mixtape incorporating the hottest records and stories of 89 and reflecting their relevance for today. For hip-hop heads 89 was the peak of the Golden Era and the Crack Epidemic. For BreakBeat poets 2016 feels like a similar meeting of incredible artistic production and critical political terror. For 6 days at the end of 2015 poets Kevin Coval and Nate Marshall took to the page to consider the past and the year(s) to come.