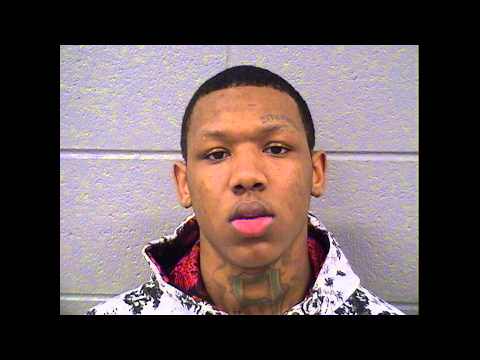 It appears Rondonumbanine's murder trial has hit a snafu. Two years after being arrested and charged for the murder of Javan Boyd, the Chicago rapper sits in jail awaiting his fate and right to a speedy trial.
The Chicago Tribune reports that Rondo's case has stalled because witnesses are failing to cooperate. It's quite the tangled web involving rappers who've fled to Atlanta, and witnesses going into hiding. We suggest you head over to the Tribune to read the full run down, and check out some choice excerpts below.
Cook County prosecutors have struggled for months to ensure witnesses show up for the murder trial of two Chicago rappers. But with a speedy-trial deadline looming, did a judge overstep her authority by holding a female witness without bail even before the woman could agree to appear in court?

That was the question an Illinois appellate court took up Thursday on little notice, just one day before jury selection was scheduled to begin at the trial of Clint Massey and Courtney Ealy in connection with the 2014 slaying of a jitney cabdriver on the South Side…

…Recalcitrant witnesses, a common issue in gang slayings, have been a problem ever since, prosecutors said. One alleged eyewitness, also a rapper, allegedly tore up a subpoena when investigators finally found him before fleeing to Atlanta days later.

At the emergency oral argument Thursday, a prosecutor told appellate court judges that they had tried to locate witness Kaprice Johns more than "two dozen times" since 2014 without success. She was eventually arrested Feb. 9 on an unrelated traffic warrant while hiding under a bed in a South Side home.

Johns was in one of the three vehicles that Massey, Ealy and others rode in the night of the killing, prosecutors said. After the slaying, she allegedly returned to the blood-stained jitney cab in the 3700 block of South Princeton Avenue with Ealy and another witness after Ealy realized he'd dropped his cellphone there.
Her assistant public defender told the appeals court that Johns, who is homeless, had already gone out of her way to help authorities, giving a video statement to police and then testifying in front of a grand jury. There was no sign she wouldn't appear in court, Vincent Colucci said.

Would-be witnesses are typically jailed only after ignoring a subpoena and failing to appear in court.

Johns' pending traffic case was disposed Feb. 10, but she remained in jail on a no-bail warrant for an attempted fraud charge out of Lake County in Indiana. But after no one from Lake County picked her up, prosecutors asked Judge Diane Cannon on Feb. 18 to hold Johns without bail as a material witness to the slaying.

At the hearing Thursday, Assistant State's Attorney Eric Leafblad conceded that the judge was first supposed to give Johns the chance to sign an agreement that she would appear in court. But instead Cannon immediately ordered her held without bail even though she acknowledged Johns would likely appear for the trial if freed…

…Massey's attorney, David Hill, said in a phone interview that his client has been demanding trial for more than four months and noted the "extraordinary" efforts prosecutors were making to secure witnesses for the trial.

Since December, Massey's Twitter account has boasted of his imminent release, tweeting "I'ma be home b4 the summer." Last month, he predicted he'd be on tour soon.