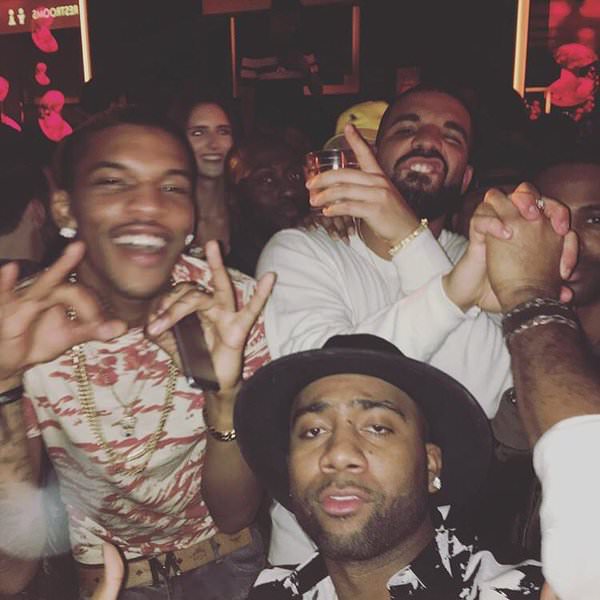 Late last year, a photo of Drake went viral, featuring the Toronto rapper in a Las Vegas club alongside 600Breezy, embracing an unknown counterpart with a handshake that many suspected to represent Chicago's Black Disciple gang. Numerous media outlets picked up on the controversial story, including Mediatakeout, who accused Drake of being a BD.
According to multiple sources on the Internet, Drake – the BEIGE CANADIAN THAT WE ALL KNOW AND LOVE . . . is now an affiliate of the Black DISCIPLES of Chicago. A photo of Drake with one of Chicago's top gangsters 600 BREEZY started circling the net last night. And Drake was spotted giving the GD handshake.

Typically only BDs and their affiliates are allowed to give the handshake.
Well, we recently sat down with 600Breezy for a rather in-depth interview where we discussed a number of interesting and controversial topics — one of them being his infamous picture with Drake. So was there any truth to this rumor? Our man on the scene, Holiday Kirk, finally got Breezy to break his silence and clarify the photo:
FSD: Correct me if I'm wrong but there's a picture of Drake throwing up BD [gang sign] with you. Do you know about that?

600 Breezy: Man… I'm glad somebody finally asked something about that picture. First of all, I'm a Black Disciple and we throw up the tres. What it was was Drake was shaking somebody's hand, if people was smart enough they'd know gang members shake each other's hands with the right hand. Drake was holding his right hand and it was grabbing somebody's left. No gang member can even shake up like that. The way his hands was locked with the other ones, it looked like he was shaking up BD. It looked like he was shaking up my gang's handshake but he wasn't. They put that on Baller Alert, Mediatakeout [Drake's] a Disciple. All types of shit! That man is a businessman. It was crazy because it blew up, that shit was everywhere. They even had my mom looking at the shit crazy "That's my son y'all talking about!" It was crazy but he definitely ain't no damn gang member he ain't apart of nothing going on with this street shit. That's my man, strictly I understand he fuck with me and I fuck with him and it's a genuine relationship. He ain't tryna be nothing he not or none of that shit bro. It's just the public eye they crazy.
So there you have it. Stay tuned for our full interview from Kirk and 600Breezy, coming very soon. It's one you won't want to miss.