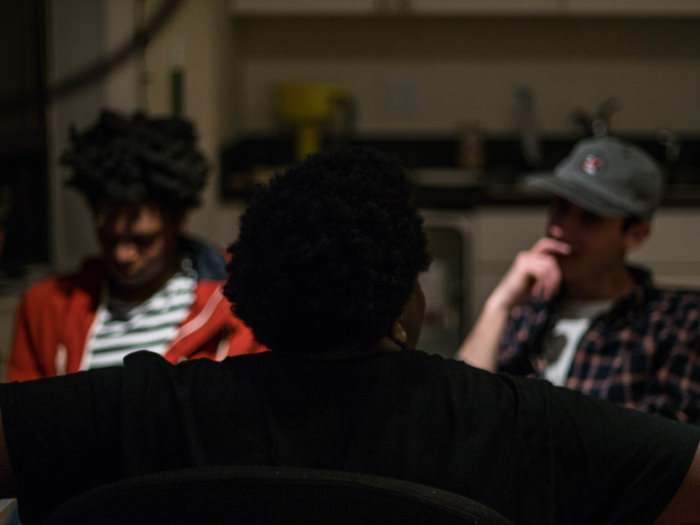 Words by Phlash Gordon (@ThePhlashGordon)
April 24th, 2016. Chicago. This Sunday is the first truly warm day of the weekend, although the temperature has been characteristically moody all week. People are outside, enjoying their walks to small, out of the way Uptown restaurants.
In the middle of the commotion sits a small apartment. Laughter coming through the door would tell you company is present. Well-liked company at that. Stepping into the room reveals quite the setup. A PS3 is hooked up to a 36-inch TV. FIFA is being played. Next to this sits a simple music making arrangement; a keyboard and a fairly expensive looking mic. Although, for the time being, 2 1/2 of the 4 people in the room are more fixated on the soccer match being played, in between looking at each other through laughs. A couple of Portillo's cups are strewn around the living room. "We like to celebrate the release of new material with Portillo's. It's gotten to be kind of a tradition," someone explains to me. The release in question is Down Dance, the debut EP from Appleby, produced entirely by Elias Abid. After a more than solid run on the internet, being ranked #4 trending music on Spotify, tomorrow will be a breakout moment for the two. And they celebrate with Portillo's and FIFA with their friends.
This is the apartment/home studio of Kansas City via Paris transplant Elias Abid, a very quickly rising producer who got his start working under Stefan Ponce. His Uptown living quarters has begun to serve as the hangout for his circle of like-minded artist friends. Today this includes himself, production/singer/rapper duo Iris Temple, and of course, Appleby.
Appleby is, as an understatement, something of a mystery to the music world right now. The public has yet to see his face, he doesn't give his real name to any press outlets, his exact hometown is only known to be a nondescript suburb close enough to drive to Chicago twice a week. This isn't unintentional. Outside of his mother, family and close friends have no idea he even makes music. "I wanted to let the fans—whenever I have fans—get accustomed to the music itself first, before they got some preconceived notions based off of who they see," he explains, as he makes passes on the TV screen above. "Now I just 1) get to keep it away from my family in case it blows up, and 2) now I don't have to deal with people not liking the music based off of what they see. Or not being inspired to create for themselves because of what they see.
"You look at certain sports, like football and basketball. A lot of African-Americans go that route because it's what they see. I grew up playing tennis. People look at me, see a black dude and go 'Oh, you hoop bro?' and it's just this weird thing. So I never wanted anybody to look at me and think they can't make music. I also don't care about being 'famous' per se."
The enigmatic part of Appleby is the fact that he's not in any specific genre. I point this out to him, and we both acknowledge it. "I don't think I—oh wow, DAMN! [he's missed a pass in FIFA]—I don't think I've ever listened to one genre. And I think the genre I love the most is something I can't make naturally. But I find that when I sit next to him [Elias Abid], whatever his core progression is, it has this inadvertent quality to just let me find that inspiration that I've always had lurking in me. I'm just able to express it as an artist now," The game has been paused, and he leans back to consider something. "I feel like now I'm kind of looked at as a little bit more of a songwriter, 'cus it's not so Drake-esque, or Spooky Black, as those guys were my initial inspiration. I say make the music that you wanna replay over and over and over again. And if it sounds hip-hop, it sounds hip-hop. If it sounds rock, it sounds rock. If it sounds like Adele, then shit… I'm OUTTA HERE, bro."
He talks about being his own biggest critic, not wanting to put out music unless in can "go into [his] phone," By this he means music that can sit next to his favorite artists. The Drakes, the J. Coles, the Kendricks, the Adeles. Only the best stuff will be in his pocket, he explains to me. Before linking with Elias, nothing seemed to work correctly.