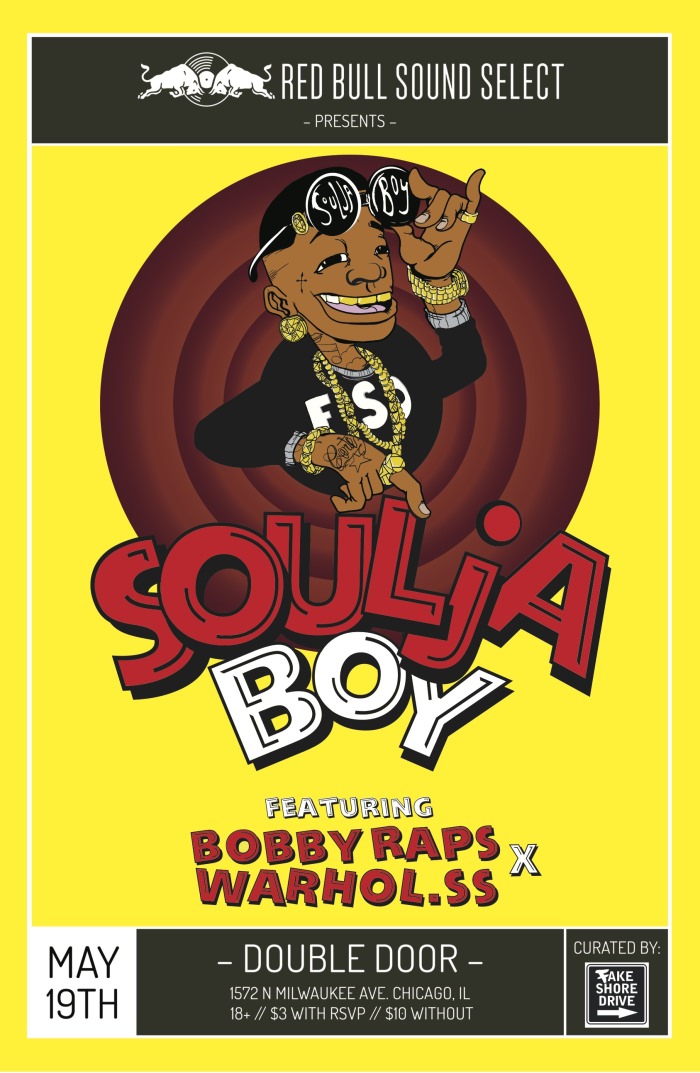 Art by William Goff with Langston Allston
The DeAndre Way…
Year four. Show two. And you know we had to do it. Soulja Boy Tell'em. In Chicago. The Godfather of Internet Rap, and creator of many of your favorite trends descends upon Chi City for his first show here in years. So it was only right to bring him back for Red Bull Sound Select. Soulja's resume, accolades and laundry list of hits speak for itself, so expect this to be one of the craziest shows we've ever put together. That I can guarantee.
It goes down Thursday, May 19th at the Double Door. Doors open at 8pm, and the show is 18+. Per usual, it's a $3 with RSVP — $10 without. So be sure to RSVP and save some cash. This show WILL sell out, so be sure to handle that ASAP. Early arrival is strongly suggested.
Rounding out the bill is fellow Red Bull Sound Select artist Bobby Raps, who hails from the Twin Cities, and will be bringing that Minnesota flavor to Milwaukee Avenue. Repping Chicago is the homie Warhol.SS who will be making his RBSS debut at the show, and is one of the most exciting new artists from the local scene. The future is here.
Finally, someguynamedty will be DJing, so please believe it will be a night to remember.
Location: Double Door

Doors: 8pm

Age: 18+

Date: Thursday, May 19th, 2016

DJ: someguynamedty

Headliner: Soulja Boy

Red Bull Sound Select Roster:
Bobby Raps

Warhol.SS
Don't sleep on RSVPing, so turn your swag on and put this event on your schedule.