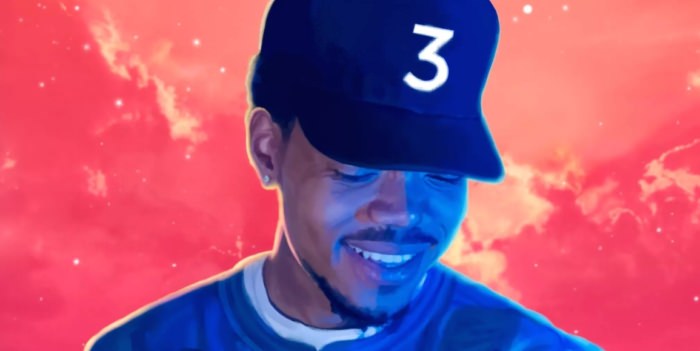 Words by Andrew Jennings (@ArchieBlocka)
When I first heard Chance's Coloring Book album, it immediately took me right back to arguing with my Mom on Saturday nights about why I was being forced to go to church on Sunday mornings. But in talking with some (white, tbh) friends who listened to the album and liked it, it became pretty apparent that a lot of them didn't know where the sound came from. So to help these friends out, I divided the gospel influences on the project into three sections: sounds, lyrics, and featured artists — and explained why this is probably the only rap album from a Chicago artist I could play for a Pastor without getting splashed in the face with holy water.
Sounds:
If we're talking sounds (Drake voice), this album literally sounds like 9am Sunday service at a Black church. Off rip, we hear Nico lead into "All We Got" with his trumpet, and his mini-solo at the beginning of the song turns into a a full-fledged gospel ass rap song. This comes complete with some Ultralight Beam-esque THIS IS ACTUALLY A GOSPEL ALBUM Kanye autotune, the Chicago Children's Choir, and the Francis and the Lights' "prismiser" sound (more on that later). As cliche as it sounds, "All We Got" serves as a great intro — sonically and lyrically — to the rest of Coloring Book, where we see Chance continue to develop this "gospel rap" sound.
For example, one of the recurring sounds that drove home the gospel influence on Coloring Book is the church choir sound. We hear this with the Chicago Children's Choir on "All We Got," the choir sample on "No Problem," the cover of Chris Tomlin's "How Great is Our God" on "How Great,"and the "Do-Do-Do-Do-Do-Do-Do" on "Finish Line" that I'm 98% sure I've heard the youth choir at my church sing before. However, a choir isn't the only trick in the *coloring* book (HA!). On "DRAM Sings Special," D.R.A.M. and Elle Varner interpolate (take part of a different song and insert it into their own– I had to Google it) a song called "Very Special" by Debra Laws, and put their own soulful touch on it, accented beautifully by a little keyboard work at the end of the song that puts the icing on the cake. That goes straight into "Blessings," which opens up with singer Jamila Woods belting, "I'm gon', praise him, praise him til' I'm gone," and turns into what I think is the most overtly gospel-esque track on the album.
This church-inspired sound carries on through the end of the album with the second-to-last track ("Finish Line/Drown") boasting a Kirk Franklin verse/prayer, and the last track ("Blessings #2") sampling "Let The Praise Begin" by Fred Hammond (classic). Lastly, the album passed the most important gospel test, which is that my church organist Father didn't immediately pronounce it as trash. Matter of fact, he even went so far as to compare it to some 1920s gospel offshoot genre that I'd never heard of. So yeah. The gospel influence is pretty clear here.
Lyrics:
Lyrically, God bars are all over this project. In his (extremely good and very informative) Beats 1 interview with Zane Lowe, Chance says that, "every morning starting at 6 A.M., I'd wake up cause I'd be on Chicago time, and we'd crank Kirk Franklin through the fucking whole neighbourhood, and that I think… That was the time I started making a lot of this music two years ago and it kind of carried through and led me to understand, to know that my next project was going to be founded in God and founded in my faith." This is pretty apparent from the jump, with Chance on "All We Got" telling us that, "this for the kids of the king of all kings," a term for God that comes from Revelations 19:16 and is used all the time in gospel music.
Even the guests come in feeling sanctified, with everyone from T-Pain ("all these days I prayed and now I see the finish line"), to 2 Chainz ("I'm so high, this is God dappin', this is my blessing, this is my passion"), to Lil Wayne ("sacrificing everything, I feel like Jesus Carter"— this might be a reach but let me cook) referencing their relationships with God.
Actually, instead of talking about how individual songs incorporate Chance's faith (if you listen to the album, it's really not too hard to spot), I'm just gonna list some of my favorite #GodBars on the record.
-"I might give Satan a swirlie" ←– easy favorite
-"Jesus' Black life ain't matter, I know I talked to his daddy, said you the man of the house now, look out for your family"
–"Hit Jericho with a buzzer beater to end a quarter, watch brick and mortar fall like dripping water" (Genius hyperlink for everyone who didn't grow up with religious ass parents)
–"Devil will win employee of the month by the dozen, 'til one score and three years from the third when he doesn't"
-*Jay Elec's entire verse*
-*Noname's entire verse*
–"I speak to God in public, he keep my rhymes in couplets, he think the new shit jam, I think we mutual fans"
However, I'd also say that the gospel influence makes itself apparent, not just through the straight-up references to God, but also through the overwhelming positivity of the album. Serving as a counterpart to the harsh realities that drill rap offers, Coloring Book depicts the joyous side of living in Chicago, and Chance's life in general (think: "Juke Jam," "Angels," "Blessings"), and in that way, attempts to uplift listeners in the same way that gospel does.
(Sidenote: I wanna take this time to say that even though it's not gospel-y and therefore doesn't really relate to this project, "Juke Jam" is a COLD ass song and Justin Bieber is the G.O.A.T. Minus the assaulting of 12-year-olds. And the racist jokes. And the Anne Frank thing. And the— you get the point.)
Featured Artists:
I've talked about a few of the featured artists already, but I'll use this section to mention some people I haven't talked about yet/go deeper with some people I've already mentioned.
Francis and the Lights: This quote from Chance's Zane Lowe interview can explain his influence on the album a lot better than I can. "There's a very special thing that Francis does that he called "prismiser," I love it, and it's gonna be on Kanye's album and it's on Frank's album but this "prismiser" thing that he does, he sings and takes a vocal and then very similar to a vocoder he, instead of being singular keys he builds chordal sounds around it, so it sounds like a choir. And, that's I think one of the encompassing ideas of the whole project cause that sound is on, Francis is credited on "Summer Friends" but he also did all of the Kanye vocals on it, he also does the end of "Same Drugs" there's a whole part that he does and even though it's not him playing on "How Great" my cousin Nicole came in and sang this lead vocal from "How Great is Our God" and my homie Peter came in and did Francis' prismiser effect with his same harmoniser and preset that we learned from him and shit, and really makes it sound like a whole new thing."
Kirk Franklin: THE GOD. SEVEN-TIME GRAMMY WINNER. WAS OFFERED A RECORDING CONTRACT AT AGE SEVEN. THE MAN MY WHOSE MUSIC MY AUNT POSTS SIX DIFFERENT LINKS TO PER WEEK ON Facebook. Kirk Franklin, the world-famous gospel musician who was also on "Ultralight Beam," dropped some words of wisdom on "Drown," and extended the water metaphor started by…
Noname: BRUH IF YOU TELL ME THIS VERSE WASN'T STRAIGHT FLAMES… Noname drops a verse entirely comprised of #GodBars and delivers a guest verse that (in my opinion) is on par with the verse of…
Jay Electronica: IDK HOW THE FUCK CHANCE LOCATED THE SMALL MALAYSIAN FOREST IN WHICH THIS MOTHERFUCKER WAS HIDING BUT I HOPE HE TOLD HIM TO DROP HIS FUCKING ALBUM BEFORE SOMEBODY MUGS JUST BLAZE AND STEALS THE SHIT FROM HIS LAPTOP. ALSO HIS VERSE WAS COLD AS FUCK AND WAS JAM-PACKED WITH #GODBARS. CHECK OUT CHANCE'S BEATS INTERVIEW HIM TO HEAR HIM TALK ABOUT IT.
(I'm not being paid by Beats or Zane Lowe to plug their shit, I promise. But if either of y'all feel like cutting me a check…)
Nico Segal a.k.a. Donnie Trumpet: If you're still reading this, you probably know who Nico is. But his trumpet is all through the record, and really helps shape the project's gospel sound.
My Cousin Nicole: I couldn't find anything on the Internet about this cousin Nicole, but she went off on the intro for "How Great," so she definitely deserves some shine. My mom loved it.
So there you have it. Kanye infamously referred to The Life of Pablo as, "a gospel album with a whole lot of cursing on it," but Coloring Book falls a lot more into that lane than TLOP. Although Chance already said in an interview (you can figure out who the interview is with) that he didn't set out to make anything that could pretend to be New Gospel, the gospel influence is pretty clear, and looking forward, it'll be interesting to see where he goes with it.
(Another sidenote: Imagine playing "Freestyle 4" for T.D. Jakes hahahahaha foh Kanye)
(no disrespect though Kanye you still a genius)