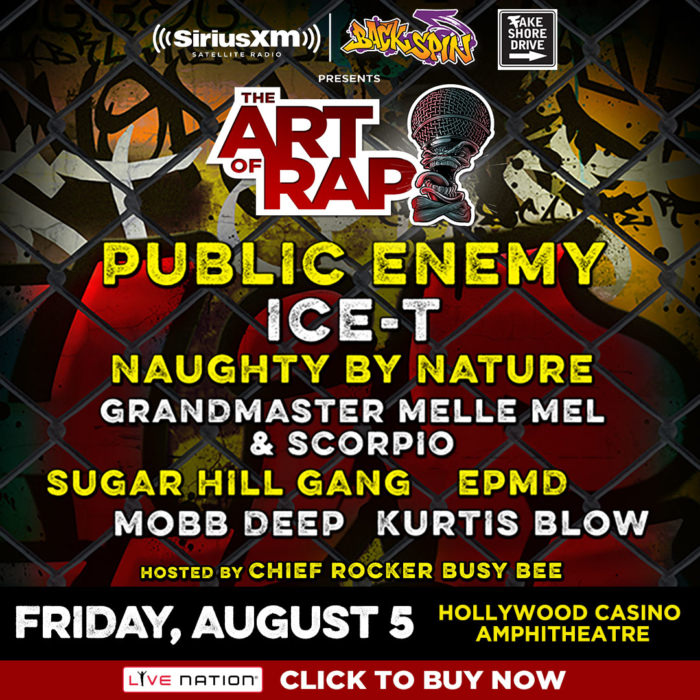 As you've probably seen, we've partnered with Live Nation to bring you the Chicago stop of The Art of Rap Tour on Friday, August 5th at the Hollywood Casino Amphitheatre. The tour, which will be hitting select markets across the nation in conjunction with SiriusXM's Backspin station, will feature an all-day affair with legends such as Public Enemy, Ice T, Naughty By Nature, Grandmaster Melle Mel and Scorpio, Sugar Hill Gang, EPMD, Mobb Deep and Kurtis Blow all performing. Chief Rocker Busy Bee is hosting — and it's a trip back in time with some of the genres all time greats.
Tickets are on sale now, ands till available.
The Art of Rap Tour w/ Public Enemy, Ice-T, Naughty By Nature
Friday, August 5th
Hollywood Casino Amphitheatre
Tinley Park, IL
However, today, we have an exciting opportunity for all aspiring artists out there. We're going to be selecting one artist or group to be the opening act for the Chicago date on August 5th. Yes, the winner will be kicking off the day-long festival and will be treated to a day with the legends.
Hit the jump to find out how to win.
To win you must be following  @fakeshoredrive on Twitter (so we can DM winners). Please head over to our Twitter now to RT THIS TWEET and include a YouTube clip of your best performance in the Tweet. We will review all submissions and pick one winner from the batch.
Good luck with this amazing opportunity!