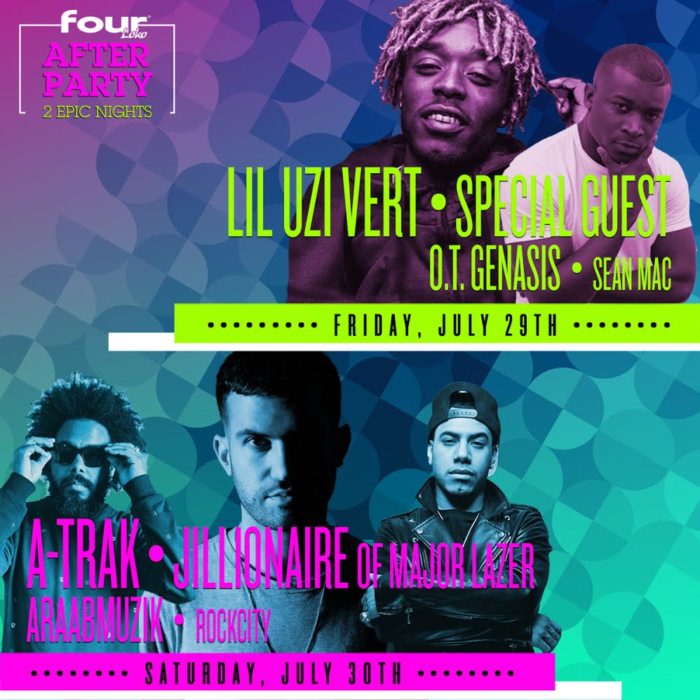 For the past few years, Four Loko has been bringing Chicago some of the most exciting post-festival music events, but with this year's lineup, they've truly outdone themselves. THIS Friday, July 29th and Saturday, July 30th, Four Loko and FSD will join forces to host two of the most epic parties of the festival weekend. All for FREE.
On Friday night, Four Loko boasts performances from Lil Uzi Vert (and now OT Genasis!) and a few special guests. As you know, Uzi Vert has quickly become one of the hottest new artists in the game, and one of the true leaders of the new school. After selling out dates across the country he brings his high-energy show to Chicago, which will surely be one of the most unforgettable sets of the weekend. If you've never seen him live, you're in for a treat – a true showman.
Friday, they'll also host none other than OT Genasis, the man behind such hits as "Coco," "Cut It," and "Push It." The bar has been raised yet again.
There's also a very special guest coming — one we promise you won't want to miss.
On Saturday ,they welcome Jillionaire, one third of the world renown group Major Lazer, who has been traveling the world doing next-level shows and delivering his unique brand of EDM sounds for years. He's a leader of his genre, and will no doubt shut the house down on 7/30.
Also on Saturday is AraabMuzik, whose live beatmaking and production sets have been celebrated on festival stages around the globe — and on July 30th you'll get to see it live and in person. AraabMuzik boasts an impressive production discography and has been dubbed "The MVP of the MPC"- it's something you have to see to believe.
Four Loko recently upped the ante by adding Atrak to the already amazing lineup on Saturday. Yes, Mr. Fools Good himself will be in attendance to rock the packed house with one of his high octane and unforgettable sets.
There are other special guests on both nights who we'll be announcing in the coming days, but just know that this will be something you won't want to miss.
If you're 21+, you can now RSVP to gain access to the event. Patrons will be admitted on a first come, first serve basis when the doors open at 9pm every night. Both nights will include a HOSTED BAR.
Friday Night, July 29:

Lil Uzi Vert
OT Genasis
*Special Guests

Saturday Night, July 30:

Atrak
AraabMuzik
Jillionaire

Location: 1446 West Kinzie
Price: FREE
Doors: 9pm

This will be the party of the summer, and 100% the best festival-related event of the year. Let the games begin.