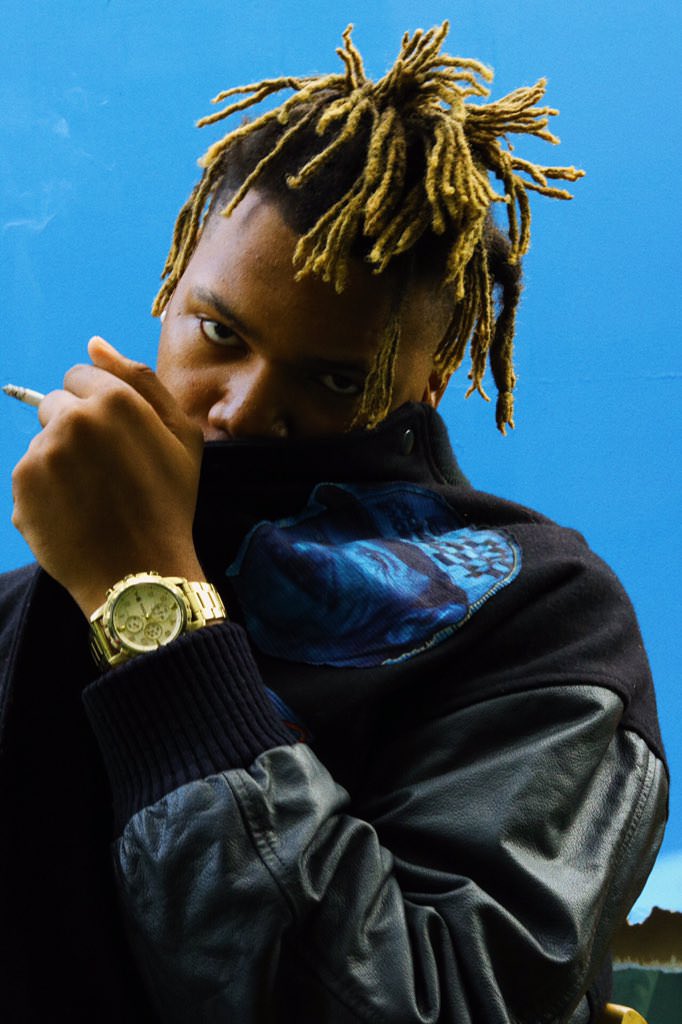 Words by Andrew Jennings. Photo by @___aus10
To be honest, when I found out I was gonna interview Drayco McCoy, I was pretty amped. "Know That" was actually a squad anthem for a minute, and I've been bumping a lot of his other stuff for a while. For the three people who've actually been following my Fake Shore career (hi Mom), you'll know that my previous interviews have focused on the people who've influenced the artists I've talked to, but because the Internet hasn't been flooded with information about Drayco yet, I decided to get more in-depth. This was actually hella interesting, so read on. Also, I think he'd want me to tell you to listen to his music before/during/after you read.
FSD: So yeah, like I kinda already said, I'ma just ask you a bunch of questions. In the past, I've been focusing solely on people's influences and shit, but I couldn't find that much about you on the Internet so I figured doing a more in-depth interview might be a move.
Drayco McCoy: Yeah, that's cool with me.
FSD: So correct me if I'm wrong, but you're FullyAutomaticDrayco now, before you were Drayco Malfo… Fuck. Before you were Drayco McCoy…
Drayco McCoy: I'm still going by both of them, cuz most people still know me as Drayco McCoy, so I'ma just keep both names. I think it's tight anyway to have nicknames.
FSD: Bet, and then before that you were BabyGuillotine?
Drayco McCoy: Well, I've always called myself that. That's kinda like my producer name instead now. I might break him out as like a different style rapper or some shit in the future, but right now I'm just using that as my producer name. I've always called myself that, I don't know why.
FSD: What spurred the change from Drayco to FullyAutomaticDrayco?
Drayco McCoy: I just got kinda bored with it, and a lot of people compared it to Drayco Malfoy from Harry Potter, and that shit's just stupid annoying. But it's an easy way for people to remember my name, which is tight. Cuz then they'll just be like, "Oh, like Drayco Malfoy?" And I'm just like, "Yeah." But then again, it's kinda corny, so I was just like, "Fuck it, I'ma just change it." And then one of my friends actually bought a Draco, and was like, "You should change your name to FullAutoDrayco," and I was like, "That's nasty." And then I was like, "Nah, I'ma make it FullyAutomaticDrayco," and made it all one word. He was afraid of it being too long, but I felt like that's what made it sound cooler, and the fact that a Draco really is a gun makes it rawer.
FSD: Also, Draco Malfoy is kind've a dick… Low key my least favorite person in Harry Potter.
Drayco McCoy: He is a dick… But it's cool though, cuz like, he was a brat, but something about that whole Slytherin shit was just kinda hilarious to me. But I'm a Leo though, so I would've been Gryffindor. I was a real big Harry Potter stan when I was a little kid though, which is actually fucking hilarious.
FSD: What's Indianapolis like? What's growing up there like?
Drayco McCoy: Well, I wasn't born here. I been here since like 5th grade. I'm from Fort Wayne, Indiana. The city where I'm from, I didn't really spend too much time there either because I was homeschooled, so I spent most of my time in the house or with my uncles and shit. But when I came here, it was kinda weird because I had to deal with being in a new place and also going to school for the first time. So I ain't really get too much into the city, because I was kinda just growing up, trying to figure out how to work out school, going back and forth between online classes and public school, and shit like that. Indianapolis is kinda weird, because there's so many different places you could end up at, so many people you could meet, but everybody still seems pretty separated.
FSD: What's the music scene like?
Drayco McCoy: The music scene is kinda tight. The music scene is kinda like still growing. It was kinda built up by a lot of the people that I know, a lot of them are homies and shit. There's a couple different parts of the music scene out here, like of course there's gonna be the trap side, where everybody's in the hood and all this shit. Usually they got a lot of money and they can pay for dope videos, or getting on the radio and shit like that, they be having the clubs poppin. But where I be at, it's like downtown where all the hipsters be. It's called Fountain Square, and it's really, really tight. It used to be a punk scene, and now it's like all mostly hip-hop, and it's a bunch of dope artists. Everybody does shit themselves, we throw a bunch of house shows and shit like that, and it's like a whole culture being built out there. It's pretty tight.
FSD: Yeah that's tight, that sounds kinda like Chicago — like the DIY scene.
Drayco McCoy: Yeah, I mean honestly that's just the way to do it, I don't have no time to be trying to hit a studio, or wait for a venue to let me know when I can throw a show or shit like that. We gotta take shit into our own hands. And that's what it is where I be at, it's just a bunch of people… Especially with punk music, rock n roll and shit like that. They all were raised learning how to do shit themselves anyway. You gotta learn how to play an instrument, gotta learn how to put out your own shit, you know what I mean? You gotta throw your own shows, it's like that same aspect, except they all just listen to rap now.
FSD: So yeah, do the punk scenes and rap scenes collide? You ever heard of $ki Mask the Slump God and Xxxtentacion, from Florida?
Drayco McCoy: Yeah, them niggas is hard.
FSD: Yeah, and people like that and like you are kinda how I've noticed that there's starting to be an intersection, I guess, between punk and rap. How'd that start?
Drayco McCoy: I mean, I've always been into rappers who scream and shit, just hardcore rappers. Like when I was growing up, I don't know if you've ever heard of this dude named Luni Corleone, but he used to do that shit. My Momma put me onto that, my Momma used to listen to Mystikal, she used to listen to this nigga named Drama — Lil' Jon, just a bunch of niggas that screamed all the time. So I've always been into that shit, but like, just being around my homies, they put me onto the punk rock shit, and all the punk music out in the area. That shit kinda changed everything for me, because local punk shows are pretty fucking raw.
First of all, it's just a bunch of crazy ass white people on drugs, and they all like running into each other and shit, and I think that's just raw as hell. But on top of that, you got everybody actually listening to the different elements of the songs, everybody's really involved, everybody really loves what they're doing, and everybody doesn't give a fuck. And that's exactly what I do with rap. So at the shows that we throw, sometimes we'll go ahead and have a band perform before we do, or some shit like that. That kinda just helps bring the energy, cause we all do the same shit, have mosh pits in the middle of the show.