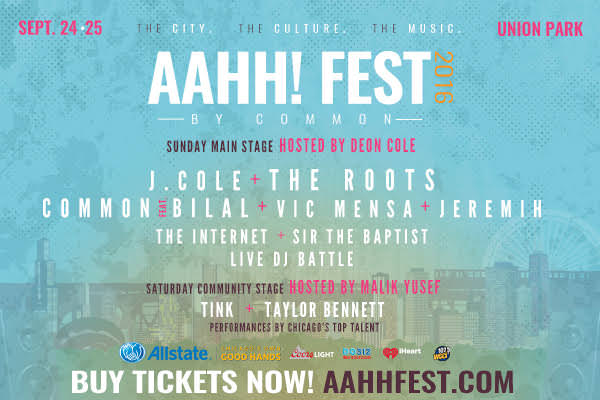 Update 2: J. Cole has just been announced as the official headliner of the festival. Things just got very serious. Cole's fans are some of the most dedicated I've ever seen, so expect a good turnout. Grab tix here while they're still avail.
Update: Vic Mensa, The Roots (with a special guest), Bilal and Malik Yusef have been added to the bill. It's shaping up nicely…
On September 24th & 25th, Common's storied AAHH Fest returns to Union Park for a two day affair — and the headliners have just been announced. Besides Common, you can count on seeing Jeremih, The Internet and Sir the Baptist on Sunday the 25th with hosting duties from Deon Cole. Tink and Taylor Bennett will hold it down on community day which is Saturday the 24th.
The community day is for the children and young adults, while Sunday's festivities on the 25th are for the 18+ crowd. There are plenty more acts to be announced as well as a stable of surprise guests, so stay tuned for more details.