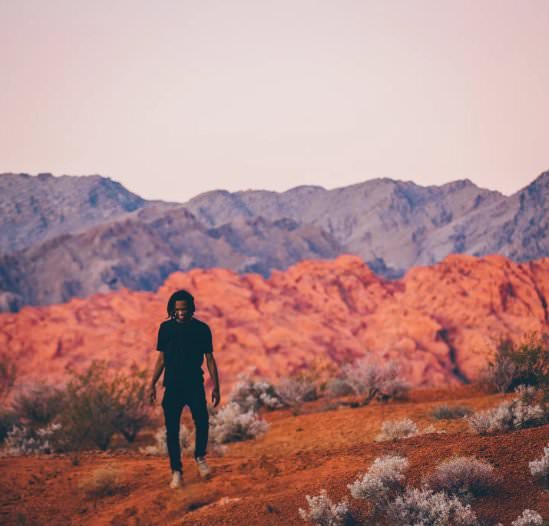 It's almost time. After three long years, we finally get, Bucket List Project, the long-awaited follow up to Saba's critically-acclaimed ComfortZone. The project is set to release on October 27, but we finessed some early access to the tape and all we can say is "wow."
Let's start with the production. It's interesting. It's genre-bending. It's cohesive. It's beautiful…but how could it be anything different? The majority of the project is handled by two-third of the trio that snapped on Noname's debut, Telefone: Phoelix and Saba himself. A mix of neo-soul and boom-bap dominate the tape, blending each song together creating a sonic picture. Joints like "Symmetry," "GPS" and "Most" really flex the neo-soul vibe, but there's a contrast to that. "Westside Bound 3" and the title track absolutely bang.
This project is going to push Saba into the light as one of the most interesting MCs — not only in Chicago — but in the game. He's truly perfected his style as he raps/sings his way through a combination of both minimal and hectic beats. He also spits some of my favorite bars on this tape, with content ranging from life on the westside to choosing not to smoke weed.
The features? Fantastic. Every single feature plays their part, contributing to the track, but not being over powering…well, except for Twista, but it's fucking Twista. His new verse on "GPS" is simply flawless. I let out a girlish scream when I heard it for the first time. In all honesty though, the features are perfect. Besides Twista's guest shot, my favorite is Phoelix and BRJKNC's outro to "Stoney." The way their voices blend and mix together sent shivers down my spine.
Conceptually, this album is a lot of fun. Sketches of people naming things on their actual bucket lists act as intermissions splitting up various tracks. One guy names taking Derrick Rose one-on-one as something on his list, while another adds that he wants "10 million dollars in my bank account, and I wanna fuck ten bitches at the same time." My favorite part of this though are the random "cameos" that get made by various big-named Chicago rappers, both new-school and old-school.
Overall this album is great. It grows on some of the musical concepts established with ComfortZone, but also creates new ideas and sounds. This is going to be the project that takes Saba to Saba the Superstar/Worldwide Saba. Make sure to grab Bucket List Project when it drops next Thursday, October 27.