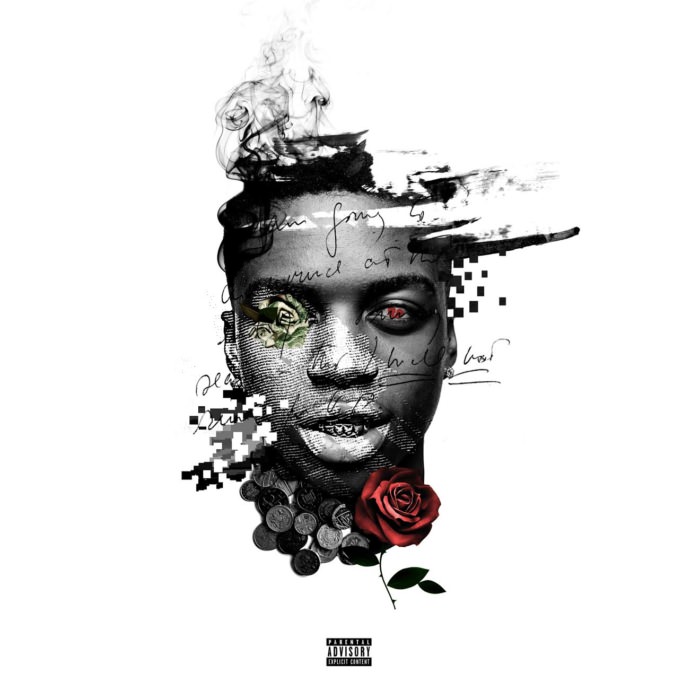 Words by Mitesh B. (@msbhatt92)
One of my favorite moments of an artist's progression is the initial buildup of a local buzz. An artist makes a debut mixtape, may have had their song on a hip-hop blog or two, and if they're lucky enough, had the chance to open for a successful artist. After that point, while they may feel the same, possibly a little more confident with some spending cash, they begin to realize that the dream of a music career is truly possible. On top of that, they begin to be a bit more perceptive of the people around them and how they impact their lives. Enter 20 year old, IshDARR from Milwaukee, Wisconsin. After impressing listeners with his 2015 hit "Too Bad", Ishmael has returned with his sophomore mixtape, Broken Hearts and Bankrolls.
Thematically, IshDarr's newest release is fairly straight forward. He's enjoying the ride of adolescence, mobbing with his friends in Bandits and Locals, the first visual for the tape. However he chooses to reference him and his friends, both tracks are fun and catchy. Locals is a stoner jam and is a smooth listen for fans. "With the punches / So when she don't function / I just call my other / Yeah that leaf emoji." IshDarr's rapping can be difficult to keep up at times. While each bar is usually direct individually, he doesn't necessarily paint a vivid picture. To his benefit, he typically doesn't stray away conceptually so it doesn't appear random, but it will be interesting to see him mature in his ability to connect lines through his verses.
The core of Broken Hearts and Bankrolls surrounds IshDarr's dreams of making it big and identifying the things, whether he loves them or hates him, that he believes will slow his grind. One of these aspects that's emphasized is love. Whether he's falling in love or breaking hearts, he acknowledges that girls can be a distraction to his ambition. One of the most honest moments is when people say he's changed and he responds with both frustration and ambition. :You in the streets too much now you changing up / I'm working bitch, trying to get famous bruh / Excuse my tone, but man this what they waiting for." This is a fairly mature observation for a twenty year old, but, like any human, the observation alone doesn't necessarily dictate his decisions. "Flaws I can't change em / Hoes in my Mirror." He constantly cycles between partying and falling for girls, realizing how it's impacting his life, and promising himself he's going to do whatever he needs to break out, including blocking out the distractions in his life. In Bad Four You, he even admits that he's just as bad for the girls he's involved with as they are for him. Like any twenty year old rapping, he's not willing or able to give the attention his partner's desire, as he raps in Time Shawty, yet he appears to fall back like any human would.
Part of growing up into adulthood is not only making realizations about how your surroundings effect you, but also taking those realizations and turning them into action. Almost everyone struggles with this wave of highs, lows, and introspection, and IshDarr admirably captures this essence in Broken Hearts and Bank Rolls. Having nearly every song produced by a different individual, Ishmael's showcases his growth as an artist. He does still have work to do; he's still fairly young in the game and has a lot to prove ahead of him. Many of his tracks start slow, and his ability to rap typically shines later during the bridge when he's flows over the momentum of the beat and shows off his potential. However, with the number of talented artists his age in Chicago, he'll need to improve his lyricism, whether through vivid images, calculated rhyme schemes, or creative metaphors. Nonetheless, for a 20 year old out of Milwaukee, Ish Darr has a lot to look forward to.