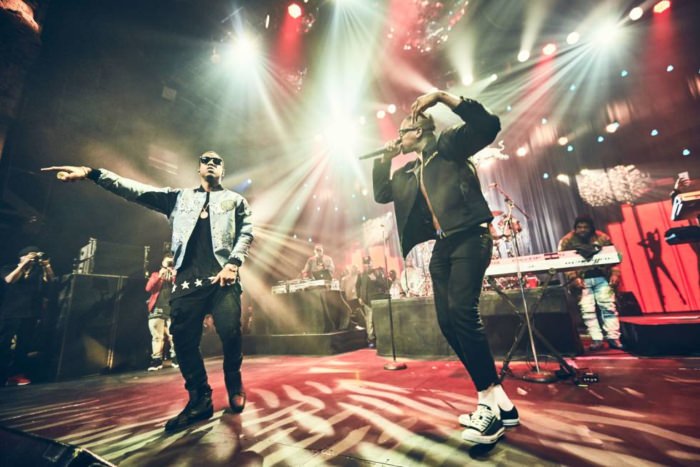 Words by Bryan Kalbrosky. Photo by Koury Angelo.
As a Los Angeles resident obsessed with Chicago-based rap music, I was hyped to see Jeremih and Joey Purp at The Mayan at Fake Shore Drive & Red Bull Sound Select's #30DaysInLA show. I didn't expect to see YG, but it became the highlight of my week.
The Joey Purp mixtape iiiDrops is one of my favorite releases from the SaveMoney collective in recent memory. That's saying something, of course, considering SaveMoney artists include rap stars like Chance The Rapper, Vic Mensa, Towkio and Nico Segal (fka Donnie Trumpet). Plus, I had heard incredible things about what it was like to see Jeremih perform live. Needless to say, it wasn't hard to convince multiple friends to join me for the gig.
None of the headliners disappointed and lived up to all my hopes and dreams from their energy. But here's what hasn't left my mind since leaving: I got to see Compton's YG perform "Fuck Donald Trump" the same week that Trump was elected President of the United States.
Yes, it was undoubtedly awesome to see the iconic Chief Keef surprise the fans. Likewise, The Game is one of the most legendary rappers and he was such a cool special guest as well. YG, however, has a historical significance to his music right now. He says things that I simply can't.
when @Jeremih brings out @YG for "FDT" the same week Trump wins the election >> pic.twitter.com/pjGCv8jC6q

— Andrew Barber (@fakeshoredrive) November 12, 2016


"I don't know how much I can express that right now, I might say too much," explained Jeremih, on stage. "But I know one of my homies can express it a little better than I could right now."
Before I noticed that it was YG, I immediately assumed it was a cover. The song is popular as heck these days, so a Jeremih cover of "Fuck Donald Trump" seemed dope. But when I finally came to and realized that it was the Still Brazy rapper, my heart legitimately started racing. I was proud to be a part of that crowd and it felt like my own form of political protest via music. During troubling times like these, it's excellent to feel like like you're a part of a community as frustrated as you are. There's so much value in nights like these and I'm glad I got to be a part of it.
There's a lot to say about the 2016 Presidential Election and all of the anxiety that surrounds it. Music has played a helpful role in coping for many people. Albums from artists like Noname and Jamila Woods and Solange are politically-charged and have offered a necessary voice.
This one in particular, though, is the song that has swept the nation recently. It's a rally cry at protests and rallies. People bring the lyrics up in conversation. Schoolboy Q covered the track in Australia. Conor McGregor rapped the song at a club after becoming the double champion on Sunday. YG even gave free "FDT" bagels to voters in Compton.
For those of you not happy with Donald Trump winning the presidential election you'll enjoy the DJ's song choice here. Conor McGregor did. pic.twitter.com/BMJNsSrCNK

— Chamatkar Sandhu (@SandhuMMA) November 13, 2016
The track is, for obvious reasons, also controversial. Four college football players were recently suspended for singing and dancing to the track (via SB Nation). Admittedly, the YG song is quite derogatory to the man who holds the most power in the United States.
YG had reportedly cancelled his three most recent concerts in Chicago, so it was a rare privilege to see him do his thing at The Mayan.
I'm glad I got to see Jeremih, The Game, Joey Purp and some other incredibly talented openers for the show in Los Angeles. But I'll always reflect on the night I saw YG play "Fuck Donald Trump" just three days after the businessman was elected to run the country.