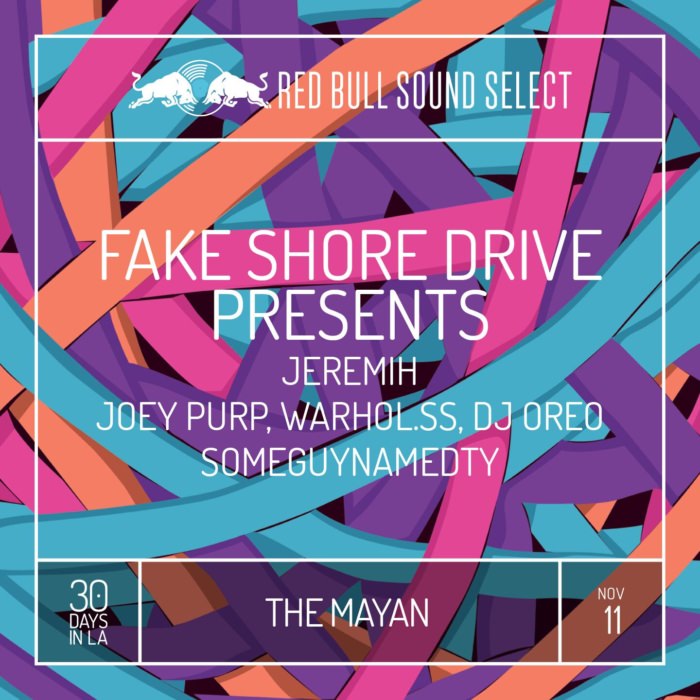 NEXT FRIDAY, November 11th, the FSD crew hits the west coast for our biggest show to date: #30DaysInLA with Red Bull Sound Select — live from the historic Mayan Theater in Downtown Los Angeles. It's an all night Chicago extravaganza, headlined by Jeremih, which also features some of the Chi's brightest upcoming talent including Joey Purp and Warhol.SS.
DJ Oreo and someguynamedy will be handling DJ duties — so you know they will show out.
We also have a very, very special guest confirmed. Who, you ask? Well, you'll find out sooner than later. We can't do it here, so we gotta do it in LA (purple demon emoji). We have plenty in store for this historic evening. RBSS is showing a lot of love to FSD and our nine-year run — not to mention Chicago — so this is something you won't want to miss.
Tickets are only $15 and are still on sale  — there are only a few left — so move fast. You can buy here right now.
Fake Shore Drive Presents:

Jeremih
Joey Purp
Warhol.SS
+ Special Guest

DJ Oreo
someguynamedty

Friday, November 11th

Mayan Theater

$15 with RSVP