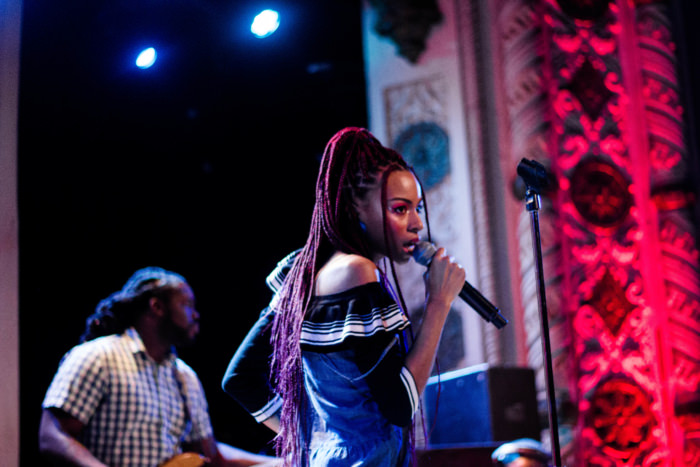 Ravyn Lenae has been busy. Joining Noname for a nationwide tour and gearing up for the release of her second EP, Midnight Moonlight, later this month could very well propel her as one of the premier up and coming R&B acts in music. Oh, and she's still in high school.
I met up with her before the second night of the Telefone Tour's Chicago stop to discuss what drives her writing, plans for the future, and her place in the Chicago music scene. If for some reason you're still sleeping, take this chance to get to know Ravyn Lenae before her new project, Midnight Moonlight drops tonight.
As I make my way into the Metro, I notice a line of people waiting nearly down the block to get patted down. Even on a frigid February night, this is the drill for a Chicago rap show. Nonetheless, the line seems to be abuzz with excitement for the show that's waiting for them.
I get led to the green room by Ravyn's manager, Lyric, and her mother, Mama Angie. We stroll past the Metro's dark and moody lighting. The green room is brightly lit, snacks strewn about, and roomier than you'd think. Showtime is in about an hour, although you'd think this is the afterparty. The band and other friends of Ravyn and Noname are hanging around, drinking beers and teasing each other; having fun. In the back, behind her makeup artist, sits 18 year-old Ravyn Lenae. Eyes closed due to eyeshadow being applied, she sits, quietly speaking to her makeup artist as her friends hoop and holler several yards away. This is a big night, not just for the two featured performers, but for the whole family.
Eyes still closed, she moves around her makeup artist and grasps my arm tightly; the closest thing she can do to a hug in her sitting position. The gesture isn't awkward or clumsy. A habitual hugger, I can tell she's had to do this from the same position before.
Tonight is Ravyn's second on the tour, and the second consecutive night in Chicago, the hometown of everyone involved. For the last few years, Chicago's music scene has become one of the most notable forces in the music industry. Musicians like Chance the Rapper, Saba, and of course Noname are getting recognized as artists to watch, yet at the heart of it all, they're a group of friends who've been making music together since they were teenagers. Although she's been a part of the scene for the better part of two years now, Ravyn is merely one of the newest in a line of success stories in Chicago, virtually the entire city's music community having recently celebrated Chance the Rappers triple Grammy wins.
Like many Chicago Public School students, Ravyn witnessed Chance and others' rise almost firsthand, and now she's become a crucial part of this family. I mention this to her, and she notes the natural way it all transpired, "I think it's just the energy. There's nowhere like Chicago, music-wise. I think it helps that we're all kind of around the same age. It's weird how that happened. That, and we're just supportive of each other. It makes it easier for that culture to develop–that musical culture."
One of the most distinctive aspects of Ravyn's music is the songwriting. Although not even out of high school, she displays a knowledge of people and utilizes storytelling in her work that's consistent with someone much older than she is. Much of this comes from her  inclination not to tell "her" story, but to create characters for each song. "I've always been into stories and how words can be put together to portray a certain image. Ever since 4th grade, I've been into writing stories," she explains, "And I've always been in tune with the other voices inside of me. So, I think that now, more than ever, I can speak for those voices. Rarely is it Ravyn speaking [in a song]. More like…parts of Ravyn." I ask if she thinks we'll hear from Ravyn herself in a work at any point. "Yeah, maybe!" she gushes. "Maybe. I'd just have to dig real deep." She laughs after she says this, and her make up artist pauses as it happens. She's clearly used to it.
We stay on the topic of her unconventional method of songwriting, and talk turns to the difficulties it can come with. "I think that the hardest characters to write are the more sensitive ones. I'm a very private person. I'm emotional, but I try to conceal it in a lot of ways, so it gets hard to tap into those more vulnerable characters. The hardest [to write] has probably been the character from 'Sleep Talking' off my Moon Shoes project. It was the hardest to tap into, but I think that people enjoy that song the most because it comes from a place of vulnerability and, uh, discomfort." I mention here that I'm among those people, as it's recently become a favorite from the EP for me. "See? It's crazy!" she says, in perhaps the most humble way I've ever seen someone accept such a compliment.