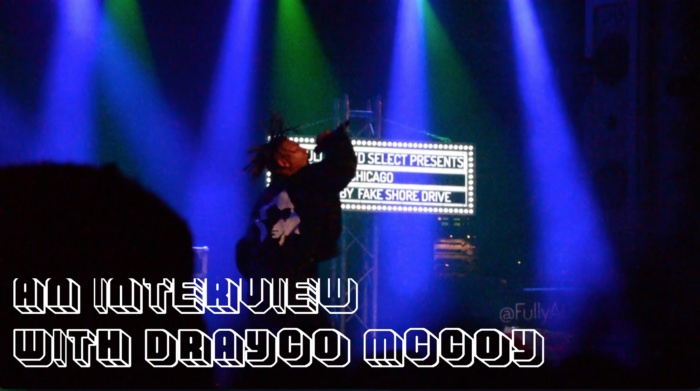 Words by Aaron Navarro
Drayco Mccoy is one of the rawest rappers in the Midwest, and I can give you two examples why. The first way is the obvious — his beats are heavy on bass and his flows are aggressive, raspy and in-your-face. The second way, you might find only from choppin' it up with him. You can tell the youngin' is starting to create a real path for himself, and is only looking up, only looking to improve. To Drayco, this is all just the start.
We caught up with the Naptown reppin' 22-year-old at the FSD and Red Bull Sound Select show earlier this month. It was only his third time in Chicago, where Drayco was opening for headliners (and bonafide Chicago stars) G Herbo and Lil Bibby. From the Pacers to punk-rock, we got to learn a little bit more about what FullyAutomaticDrayco is about, and where he is going.
Check the video recap below, and peep the full conversation right under that.
FSD: Where are you from and how old are you?
Drayco Mccoy: I'm from Fort Wayne, Indiana. I live in Indianapolis right now. I'm 22 years old.
FSD: How long have you been doing music?
Drayco Mccoy: I don't know… I've been doing music for a while. I mean like writing music and sh*t, it was like fifth grade when I started. I don't know, I've been recording sh*t since like three years so like 2014, since I left high school *chuckles*.
FSD: Was the moment when you decided that like this, would be your life?
Drayco Mccoy: I was rapping in high school, trying to figure it out and sh*t. But by the time it was over with, I hadn't had nothing else to like keep up free time, you know what I mean? I had a lot of time in my hands, I mean I might as well do something. Started recording.
FSD: Yeah, I was looking back at your Soundcloud, found the first couple of tracks. One was called "Henny & Sprite" …
Drayco Mccoy: Yeah that was one of my first sh*ts.
FSD: And you, even back then, were still really spitting back then. But how would you say since then, your music has evolved?
Drayco Mccoy: My voice is deeper and way more raspier. That sh*t was like, it was released a year ago, I made it probably two years ago. But I dropped like 16 mixtapes, so you know what I mean? If you go through them on my BandCamp, you can just hear it, ya know my voice get raspier, I sound more grown. A lot of the content ain't really change, I still say the same sh*t, do the same sh*t. It's just… I don't give a f*ck no more. I'm a lot more confident now.
FSD: How would you describe your sound?
Drayco Mccoy: Raw. Raw as fuck *laughs*. Unapologetic, I don't give a f*ck it's just raw, ya know? That's really the only way to explain it. I got like a punk attitude, punk-rock type sh*t. That's how I feel, this sh*t in my soul. I just don't care.
FSD: Going off of that punk thing, who would you say are your influences in your music?
Drayco Mccoy: I don't know. I'm influenced by every rapper in the world honestly. If you really listen to my sh*t, it's like a combination of nine motherf*ckers. I am always inspired, I am a big fan of music I listen to everybody. I just absorb it, and form my style off it or whatever the fuck I feel like doing. I'll have different beats, different sh*t that I'll do, it's influenced by everybody. Lil Wayne is the reason I started rapping, he's one of my first favorite rappers you know what I mean? First ni**a I wanted to be like was Young Jeezy when Trap or Die dropped. It was perfect. So I don't know, I guess everybody.
FSD: How often are you in Chicago, working with artists and such?
Drayco Mccoy: I don't really work with that many people. I'm trying to now, now that I got attention and I'm classified as an underground rapper, people wanna fuck with me more and stuff like that. But, this is my third time here. I came here for a Cool Kids show, I came up here on the 4th of July with my momma and everything. I don't really come here much, I want to come up here more. I love it here, at least as much as necessary. I want to meet all the cool people up here, I listen to all of the music that comes out of here constantly. I love it. And y'all so close so why not?
FSD: Coming from Indianapolis, how is it coming up as an artist there? I feel like Indiana isn't known for their hip-hop, it's different from Chicago…
Drayco Mccoy: Yeah. Indianapolis ain't really known for much. And Indianapolis has a lot of cool sh*t you know what I mean? Michael Jackson, well not Indianapolis, but like Gary, Indiana got him, Freddie Gibbs, Lil Aaron. We had the Pacers beating ni**as up in the stand, sh*t like that. It's a lot of history from Indiana, people just don't care, they don't look at it. I guess as far as Indianapolis goes, we got some people, but it's not a lot of us. And definitely no underground ni**as like me. I don't really know what it's like coming up out of there, I don't think I've come up yet. But I guess I'll be able to tell you, give me six months or something.
FSD: What's your mindset when performing live?
Drayco Mccoy: I get really anxious, my brain just gets filled with so much sh*t. And I critique myself, I'm really hard on myself, I want to be the best. I don't want to overdo it, I don't want to underdo it. I want the energy back that I'm giving out, I don't want to scare people. Really at the end of the day, I got to give the best of me that I can. I think that's my main focus, is to not care, and give my best performance. I realize every time I go on, there's somebody that's never seen me in my life. Even if they're curious, or don't give a fuck, I need them to leave and be like "He can rap."
FSD: Favorite lyric of yours?
Drayco Mccoy: Suck my d*ck I'm popular.
FSD: What makes you different from the rest of the Midwest?
Drayco Mccoy: I mean I think I'm in my own lane, honestly. But I also think I'm an underground ni**a, and the underground lane is a highway. Ni**as try to compare me to some ni**as, you know what I mean. It's always a Frankenstein type of thing, "He sounds like him, mixed with him." I feel like once ni**as know me, they'll know who Drayco is. Right now, I don't know what sets me apart other than I'm one of the hardest. I think.
FSD: Who is Drayco McCoy? 
Drayco Mccoy: Drayco Mccoy is a self-made, beautiful, raw a** ni**a. From Naptown.
How hard do you rep Indiana?
Drayco Mccoy: I rep Indiana till I die. It's my place, it's where I'm at, it's where my brothers is. I got family up there, I got all my friends and sh*t, people with me when I was nothing, dirt poor ya dig. Indiana is home, I'm not finna move somewhere else and pretend I'm from there or come up in some other place, Imma grill my city up. And they know, my city know. I'm here for them. It's my purpose in life.
FSD: A bit of a loaded question, but why do you make music?
Drayco Mccoy: I be bored. Really. I mean like I've made hundreds and hundreds of songs. I do it all on my own. I'm just hungry to learn more, learn how to do more. Music is one of those things where you can never stop learning, ya know? I used to be into instruments, I was a drummer in high school and sh*t. But then I learned how to record myself, engineer my sh*t, I do everything by myself. Now I'm learning how to produce, then I wanna learn how to manufacture different sounds producing and then produce my own sh*t. Make my own mixtape, produced and mixed by myself. It's just endless advancement. You can always get better. That's what I like. And the better you get the bigger you get, and I just wanna see how far I can push this sh*t honestly.
Cause it's the only thing I'm good at. I don't play no sports, you know what I mean. I don't even watch basketball. I might not be the best, but I want to, that's what I'm working towards.
FSD: One more question, you said your mom was here watching? What was that like?
Drayco Mccoy: That sh*t was really tight. I wanna say thank you momma, I love ya momma. But nah that sh*t was weird as f*ck, but tight.
FSD: Did she f*ck with it?
Drayco Mccoy: Yeah! She watches from a realistic perspective. If [the crowd] wasn't f*cking with me, she'd be like "You need to step it up." She's my biggest critic, she's not gonna have her son out here looking goofy. So she said, "Look bro. You did really good for what it is, they f*cking with you. Just keep going hard the way you are, and this sh*t's gonna work. And for someone who was used to be like, "Stop this sh*t right now." For her to tell me it's gonna work, I believe it. I know.
FSD: What's next up for Drayco?
Drayco Mccoy: I got an album coming, but I got some tapes dropping. We got some fire a** music videos coming, I'm trying to get more viral. I want my presence on the internet more, more than just Soundcloud and Twitter. My ni**a Tyler Holt shooting all the fire a** videos. I'm coming up with all my ni**as. My ni**a Mathaius Young, he's producing a tape for me. My ni**a Sirius Black, FLACO, they all coming up with me. Really, I got a lot of stuff dropping, I just don't want to talk about it too much. Cause, I'm the type of ni**a to work on five tapes at a time. And they all have to sound good together. I just make a lot of music and put it where it's supposed to be. But the one's that biggest is my album with Mathaius Young. He's one of the rawest ni**as alive.