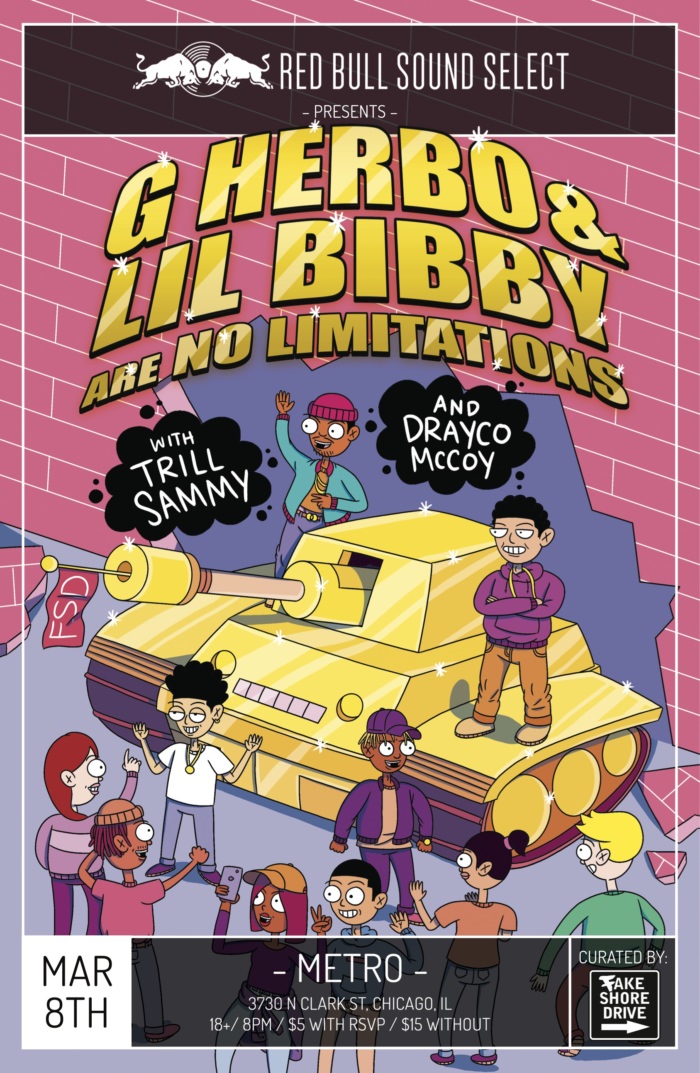 FSD & Red Bull Sound Select. We're No Limit soldiers, I thought I told ya!
We're back. 2017. Year five. What, you thought we were finished? Think again. FSD returns with Red Bull Sound Select for our fifth year together. An illustrious partnership — and we're just getting started. We ain't goin' nowhere — word to Sean Combs.
Let's go back to May of 2013 for a second. We did an RBSS & FSD show at the Double Door — our second-ever in Chicago. All of SaveMoney was on the bill. Tink performed as well. But remember, we brought the world the first-ever G Herbo and Lil Bibby performance. So it brings me great pleasure to come full circle, and have the two XXL Freshmen and Chicago icons headlining their first-ever Chicago show together. They are No Limitations, and there's No Limit to what they can do.
We will also celebrate Herb & Bibby's No Limitations collabo album, which should be out very soon. The people begged for it, so in 2017 they're giving the people what they want. That's right, the album is coming and we'll be giving you the first look tonight at the Metro. This is historic, this is monumental, this is iconic.
You wanted a bigger venue, so we're going even bigger this time with the Metro. We have to in order to accommodate this lineup.
We're also bringing the hottest thing in Texas, Trill Sammy, to Chicago for his first show in the Windy City. Sammy had an incredible 2016, and 2017 is set to be his breakout year. We're thrilled to have him onboard. We have to salute Houston's finest.
And rounding out the bill is rising Indianapolis star Drayco McCoy — one of our favorite new artists, and a true torchbearer for Nap-Town and the Midwest as a whole. We had to bring him to Chicago for his first show in the Chi. It's only right. His live show is the stuff of legend, so prepare for a wild night.
@someguynamedty will be handling DJ duties per usual. So you know how that goes.
Please arrive early, as entry is first come, first served. RSVP's are now closed, but tickets are only $5 if you did — if you didn't RSVP, the ticket is $15.
Location: Metro

Doors: 8pm

Age: 18+

Price: $5 with RSVP // $15 without

Performers:

G Herbo & Lil Bibby
Trill Sammy
Drayco McCoy

Date: TONIGHT

DJ: @someguynamedty

*EARLY ARRIVAL STRONGLY SUGGESTED*