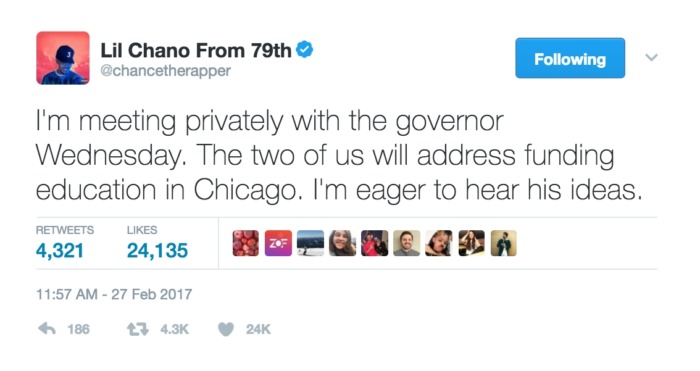 Update 4:45pm: A few hours ago, Chance announced on Twitter that his meeting with Governor Rauner is back on, and is scheduled for tomorrow morning (Friday). We'll keep you updated with more details as they become available.
On Monday, Chance The Rapper took to Twitter to announce that he was scheduled to meet with Illinois Governor Bruce Rauner — an unprecedented move for any musician or non-government figure. The idea of the meeting was sparked after Governor Rauner publicly congratulated Chance on his three Grammy wins on Twitter last month. Chance responded by asking for a meeting, which Governor Rauner granted earlier this week.
However, due to the tornadoes that tragically tore through Illinois, Rauner canceled his meeting with Chance. Rightfully and understandably so. Our thoughts and prayers go out to those families who were affected. But as of now it appears the Governor has no plans to reschedule his meeting with Chance, where Chance planned to discuss funding for education in Chicago — a very serious issue.
Chance has been very public with chronicling the details of their supposed meeting, and has yet to announce a reschedule date, which leads me to believe Rauner is blowing off the hometown hero. We hope not, because this is a rare and unique opportunity for Rauner to repair his image within a city and community that already distrusts his regime. And an opportunity to make good on broken promises and overlooking communities who need help the most.
Yesterday, Ben Joravsky of the Chicago Reader posted an incredible piece on Chance's now-canceled meeting with Rauner, and what they should discuss should another meeting come about. You can read the entire piece here (which I highly suggest you do), and read choice excerpts below:
So as a civic service, I'd like to offer some advice to help Chance get through all the BS Rauner is about to throw his way.

Let's start with the Chicago Public Schools. They're broker than usual and looking to chop 20 days from the school-year, including 13 days of instruction, in part because Rauner vetoed a $215 million appropriation CPS had been expecting.

Rauner says he won't send that money to CPS until Mayor Rahm and his school aides sign on to pension "reform"—a claim he's undoubtedly going to make to Chance. As he makes it pretty much wherever he goes.

So here's my first piece of advice for Chance: Never believe anything an Illinois politician—particularly a Republican—says about reform…

….My second piece of advice for Chance: Call Rauner on his BS.

Rauner will probably also try to convince Chance that he has nothing to do with CPS's pending bankruptcy. He'll say it's the result of bad decisions made by elected officials who came before him.

Here I must confess he has a point—there have been many bad decisions over the years.

In particular, thanks to a law passed in 1995, Mayor Daley was free to take the money he should have spent on teacher pension obligations and spend it on other things—some of which were worthwhile, like building new schools, and some of which were not.
You can also check out Rauner and Chance's Twitter dialog below. We'll keep you posted when more information becomes available to us. Hopefully, the Governor reconsiders, and gives Chance the chance to be heard. It's important for all of us.
Congrats to @Chancetherapper for making history as an independent artist and taking home 3 Grammys. IL is proud that you're one of our own.

— Bruce Rauner (@GovRauner) February 13, 2017
Thank you Governor, I would love to have meeting with you this week if possible. https://t.co/wFC41NQqGq

— Lil Chano From 79th (@chancetherapper) February 13, 2017