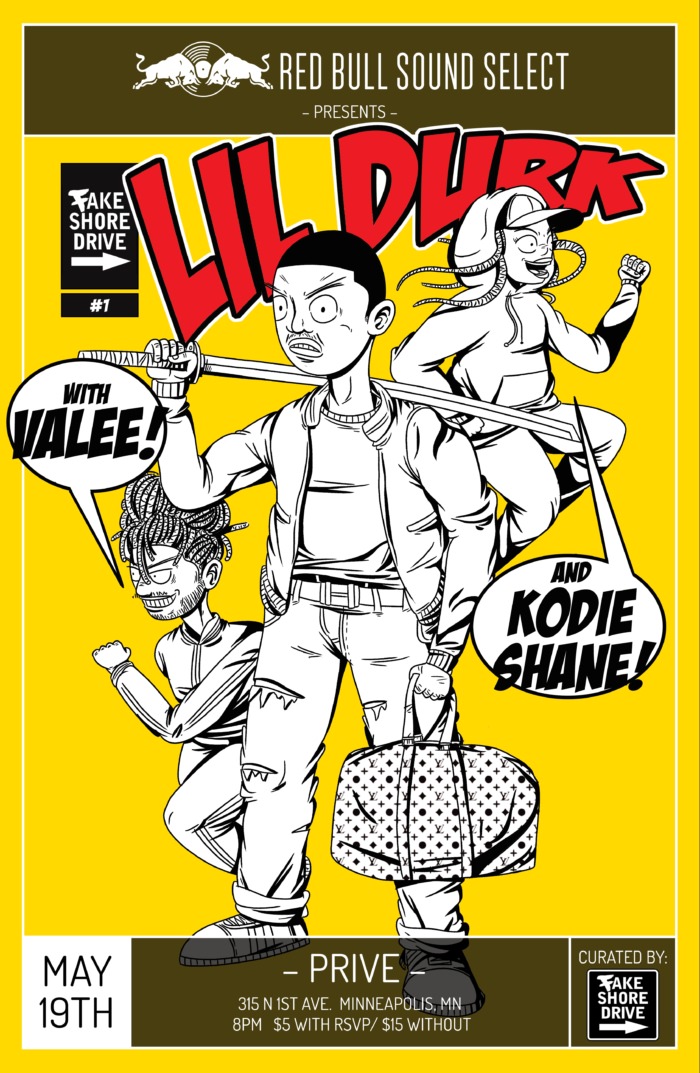 Art by Mike Hinson
Back on road.
FSD is taking our show on the road yet again with Red Bull Sound Select. Our next victim? Minneapolis, MN on May 19th. Privé. FSD in the Twin Cities. It's only right. And we're bringing the Chicago artist with the super powers, Lil Durk, along with us for his first-ever Red Bull Sound Select headlining show. It's been a long time coming, and on 5/19 we finally make it a reality.
Along with Durk, we are welcoming Kodie Shane into the Red Bull Sound Select fold. The Chicago-born artist is a part of Lil Yachty's Sailing Team crew, and is making a big splash in the game a the moment. The duration of 2017 is going to be huge for her, so it's only right we connect with her for a show.
Rounding out the bill is bubbling Chi City big wig, Valee, whose hit "Shell" is making a lot of noise across the city and country. We've been warning you guys about Valee for a while, so we had to bring him up to Minneapolis on the heels of his forthcoming 1988 project. Don't say we didn't warn you.
It goes down Friday, May 19th at Privé Minneapolis. The show is $5 with RSVP, $15 without, so go ahead and RSVP RIGHT HERE RIGHT NOW. Doors open at 8pm, and it's 18+ for entry.
Location: Privé Minneapolis

Doors: 8pm

Age: 18+

Date: Friday, May 19th

Lil Durk

Kodie Shane

Valee