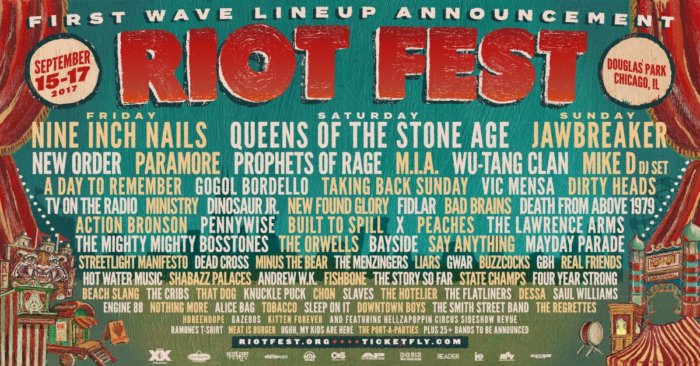 It's finally here. The official lineup of Riot Fest 2017. And our friends over there have done another fantastic job. Chicago star Vic Mensa will play alongside hip-hop legends the Wu-Tang Clan, Cypress Hill and Mike D of the Beastie Boys. While Action Bronson and M.I.A. are also slated to play.
On the non-rap side, the fest was able to land Nine Inch Nails, Queens of the Stone Age and more. You can check out a full run down of the lineup below and buy tickets right here. 
Riot Fest takes place September 15-17th at Douglas Park.
Jawbreaker
Queens of the Stone Age
Nine Inch Nails
New Order
Paramore
Prophets of Rage
M.I.A.
Wu-Tang Clan
Mike D (DJ set)
A Day to Remember
Gogol Bordello
Taking Back Sunday
Vic Mensa
Dirty Heads
TV on the Radio
Ministry
Dinosaur Jr.
New Found Glory
Death From Above 1979
Bad Brains
FIDLAR
Action Bronson
Pennywise
Built to Spill
X
Peaches
The Lawrence Arms
Mighty Mighty Bosstones
The Orwells
Bayside
Say Anything
Mayday Parade
Streetlight Manifesto
Dead Cross
Minus the Bear
The Menzingers
Liars
Gwar
Buzzcocks
GBH
Real Friends
Hot Water Music
Shabazz Palaces
Andrew W.K.
Fishbone
The Story So Far
State Champs
Four Years Strong
Beach Slang
The Cribs
That Dog
Knuckle Puck
Chon
Slaves
The Hotelier
The Flatliners
Dessa
Saul Williams
Nothing More
Alice Bag
Tobacco
Sleep on It
Downtown Boys
Engine 88
The Smith Street Band
The Regrettes
HDBeenDope
Gazebos
Kitten Forever